Trackemtigers asks whether Cam Newton played in a "one-read passing offense" at Auburn, something you keep hearing from the media. Most of the talking heads vaguely use this term, usually implying that Newton literally would look at one receiver and, if he was covered, instantly start running. This kind of confusion is understandable given that teaching quarterbacks where to throw the football both seems like a bit of an inscrutable black art — which takes years to master the often subconscious subtleties necessary to do well  — but also because there are simply many different ways to do it.
Compounding this in Newton's case is that almost all the attention on his offensive coordinator Gus Malzahn's offense has been on the running game, while the passing game has received very little attention. This is not a surprise, given the dynamic and multifaceted run game Malzahn employs, and given that, especially with Cam, the run set up the pass. But it ignores the fact that Auburn led the nation in passing efficiency and threw for over 3,000 yards last season — we're not talking about Paul Johnson's flexbone here.
Indeed, Malzahn's reputation as a high school coach was as an air-it-out guy, and in his first season at Tulsa in 2007, the Golden Hurricane were second in the country in passing yards with over 5,000, behind only pass-happy attacks from June Jones at Hawai'i and Mike Leach at Texas Tech. (They were also second in the nation in yards per attempt, behind only the Tebow-led Florida Gators.)
So Malzahn knows the pass, and Newton was obviously good at what he was asked to do. But what was that? I can only speculate on what specifics Cam was given, but I am familiar with Gus's passing game and have a strong idea of how it was tailored to Cam Newton.
Gus, going back to Tulsa, uses progression reads, meaning his quarterbacks read the first receiver, to the second receiver, to the third receiver, and so on. That means that there's no way Cam was given a "single read" — a single receiver to look at — or did Malzahn literally tell him to only look at one guy and to ignore everyone else? No to the first but, at least sometimes, yes to the second. This is because if there was one read it was not a single receiver, but a single defender.
For example, take the smash concept, a play that Gus has in his arsenal. The progression on the play is: corner route to hitch/underneath route, making it a two receiver progression (and a third if you have the runningback checking down over the middle). But you can also teach the play as a single receiver "key" read: Read the corner — if he stays with the hitch, throw the corner; if he drops for the corner, throw the hitch.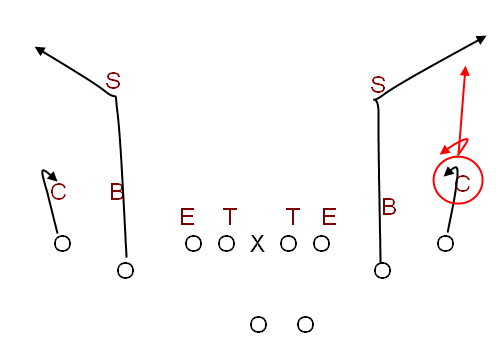 Thus in this case, it might not actually be inaccurate to say that Newton had only a "single read," but it's also a bit misleading. Indeed, many NFL quarterbacks only have a "single read" if this is the definition, though they might have some other read or key telling them which single read to focus on. But, while I think this "single read" was sometimes the case, I think more likely Gus used the progression read, giving Cam the typical suite of "reads": one, two, three, throw-it-away/run.
Chris Petersen of Boise State once set forth his view of a quarterback's development as follows:

Strict progression. Tell him to read first receiver, second receiver, and then third receiver — and then run like hell if they aren't open. In Petersen's view, if they don't know anything else they can know, by rote memory, who they are supposed to throw to. This doesn't require them to have any advance knowledge of the defense and it is where every quarterback begins.
Progression with coverage keys. The same progression concept as above except that the progression and sequence of receivers is determined by what the defense is doing. How many safeties are there? What kind of leverage are you getting from the cornerbacks? Is it a blitz? Is it man or zone? Once you've determined that, it's one-two-three.
Coverage reads. This is the advanced NFL stuff: Tom Brady sees the defense doing X, so he looks one way and then rifles it back to the receiver he always knew he was going to because he understood the coverage, he understood the technique the defense was playing, and he understood the theory of the play he was running. There are few, if any, college quarterbacks who ever do this kind of thing.
I think Petersen explained it well. Good college quarterbacks should be at level two: They should be able to come to the sideline after a mistake and explain why they threw it to a guy, and what they saw. They should be able to draw the pass play on the whiteboard but also describe the coverages and tell you why a play should get open, and they should be able to enjoy some freedom to determine their progression.This is also how Gus teaches it.
Note that not every play needs that kind of analysis — sometimes you just have a play-action pass where you want the safety to move so you can hit the deep post, and if not you have a deep crosser and a checkdown, but in general that's the level of knowledge you want about the passing game. The great ones go on to the pros where they either learn the kind of complete symbiosis with passing game, scheme, technique, timing and coverage necessary to succeed; there, the difference is between knowing computer programming languages and the end of the Matrix where Neo becomes one with the Matrix itself. I'm not convinced that can be taught, but one and two certainly can.
I'm not sure Cam made it all the way to level two — I'm not sure he had to, and I know that when he got to Auburn from Blinn college he hadn't quite gotten there. But he clearly understood level one, in that he knew where his receivers were and he was extremely efficient throughout the year. Had he stayed for another year I think he would have continued developing as a passer, but now he'll have to make a more significant leap.
The upshot, however, is that this makes Cam simply like most other quarterback prospects in this year's draft: He has more to learn before he'll be a great NFL quarterback. That should not be a shock to anyone. Blaine Gabbert played in a pretty sophisticated offense (see this great interview with Dave Matter), but he wasn't always perfect doing it, and I'm not sure how convinced anyone is that the other quarterback prospects — Mallett, Locker, etc — achieved "mastery" of the Petersen's "level 2" as I've described it above. Cam's big advantage is his immense physical ability, and his disadvantage is the same as everyone else's: He's going to have to keep working at it to show he can improve and do it at an NFL level.
Below are some clips, courtesy of Draft Breakdown. You be the judge: