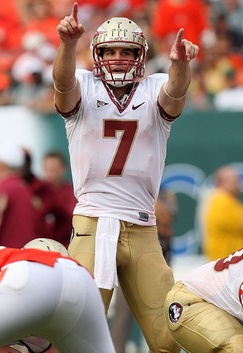 The Hurricanes edged out the Seminoles 38-34 in last night's wonderful, if unexpected, coming out party for Jacory Harris and Christian Ponder. Mark Whipple, Miami's new offensive coordinator, is — for the moment, at least — the new offensive genius in the state of Florida, and I will definitely cover his Jacory-led-West-Coast-offense-meets-the-Greatest-Show-On Turf-Attack in the near future. (I could swear that he had a section of his callsheet called "Instant thirty-yard gain off a play-action pass — for First Down use only.") But Jimbo Fisher, FSU's offensive coordinator, called a pretty nice game himself, and until the final drive Miami's defense showed little ability to stop FSU quarterback Christian Ponder, who had just shy of 300 yards passing. Fisher gashed Miami's defense several times with a bevy of plays, including a could wonderful, if not unlikely, quarterback draws with a lead back and a pulling guard.
The best call of the night was maybe Christian Ponder's twenty-one yard bootleg pass to Taiwan Easterling that extended the Seminoles' lead and set the score at 23-14. The play itself was simple, but Fisher had set it up previously: The 'Noles aligned in a basic "trey" set (tight-end and two receivers to the same side; single runningback; single receiver backside) and motioned the slot receiver into the formation. The first time or two Fisher just called a simple inside zone play to the tight-end side. But down the stretch he called the counter, diagrammed below: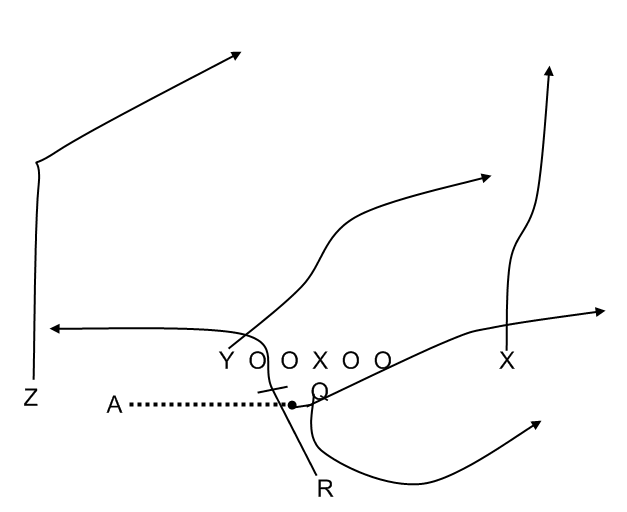 The video below shows the true flavor. Again, the 'Noles had run the play already, so the defense was ready to jump all over the run play to the frontside. And, further, the man (apparently?) responsible for Easterling, Miami's #24 Chavez Grant, plays the motion slow and doesn't follow Easterling full speed. Thus when the linebackers all crash down for the run play — and Ponder makes a nice play to deliver the ball — no one is anywhere near Easterling. See the video below; the bootleg is the second play in the clip. (The first play just appeared to be defeating man coverage; I could not see what any safeties were doing.)
Of course, as good as Fisher's calls were he wasn't able to guide his offense into the end zone at the end, and Miami walked away with a victory in one of the best (read: most entertaining) games I've seen at least since last year's Texas Tech-Texas masterpiece. In terms of predictions for both teams, I can only add a few words: If the offenses can keep it up, the difference between BCS game and mid-level bowl will hinge on the defenses; that upcoming Oklahoma-Miami game has taken on a far different complexion than it had just a week ago; and this game may just be a prelude to an eventual Canes-Noles ACC Championship game.