When asked earlier this season how he would describe the current trend in modern defenses, New Orleans Saints coach Sean Payton summed it up in one word: "confusion." While there are few truly "new" ideas in football, there is a near infinite number of ways to hide, disguise, or slightly vary those ideas. One increasingly popular idea in the NFL is the "psycho front", which simply refers to a defense that has two, one or maybe even zero defensive linemen with their hands on the ground and tends to stack the line of scrimmage. This may mean the defense is bringing a heavy blitz — or it might not. Often, the defense will show this look and then back out of it into some kind of coverage.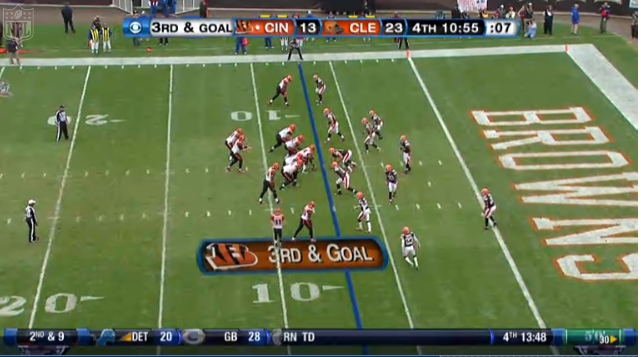 The advantages of the pyscho are many, but the biggest key is that confusion Payton talked about: it's difficult for the quarterback and offensive line to determine which of the potential rushers will blitz — other than through mind reading — and with so many of them there is a high likelihood that there will be an assignment bust. Further, although the defense might give away what deep coverage it is playing, it's not clear what kind of underneath coverage it will be — man, zone, and if zone how many underneath? Two? Three? Four? These are real issues.
Of course, the psycho itself is just a spin on some scheme done before; the fact that a defensive lineman takes his hand off the ground doesn't, by itself, change the defensive structure. Indeed, these same issues have been presented by NFL-style heavy blitz teams in the past. The problem presented in the image below is the same one as in the image above, as the defense shows a seven man defensive front while the offense has only the five linemen and one running back as pass protectors. If the offense uses some spread run game they can tilt the numbers slightly back to their favor, but it's still a big issue.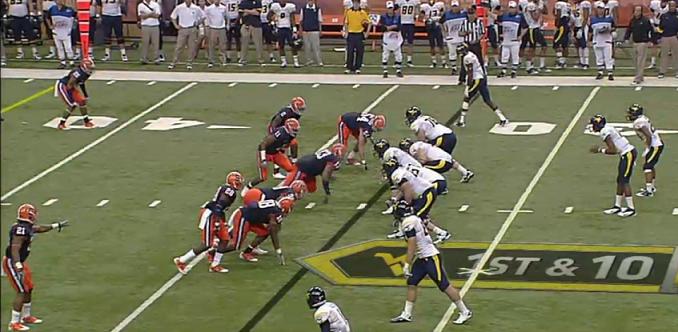 So how do you attack these looks? Ultimately the offense will need the ability to protect and complete some passes downfield, but that's not where I would begin. Below is a short list of ideas (in no particular order) to defeat these heavy or "psycho" fronts where the defense simultaneously threatens all-out man blitz, confusing zone blitz, and no blitz, all at once. Note that this is from the perspective of either a pro-style team or some kind of pass-first or pass-balanced spread team.
Run the ball at it. If they are in a true "psycho", it's worth trying to just physically get movement on the defense despite the numbers advantage. But even if not a true "psycho" look, it's important to see if their unsound defensive fronts present any obvious gaps to attack, particularly with the inside zone if they try to bring overload blitzes to one side or blitz off the edges. Trap is a good ideas as if you block it your players may be off to the races, but you may miss some assignments given their defensive movement.
Gap protect (a.k.a. "slide" or an "area" pass protection scheme). It becomes very complicated to try and use man-to-man or BOB (big on big) pass protection against such a shifting defense given all the movement, as it takes a lot of sorting through on every play, though it can certainly be done depending on your rules. The problem with gap protection is you may lose a potential receiver to their pass protection, whereas with man pass protection, if the runningback's man doesn't blitz he can release into the route. But to me protecting the quarterback is job one, even if you lose a receiver. The quarterback knows if it is an all out blitz the extra rushers are his man, but I don't want five rushers beating our six pass protectors.

Scale your protection to your throws. What this means is if you want to put five receivers out in the pass pattern, it needs to be a hot or quick pass thrown with quick timing. Same with six man pass pro. If you want to throw further down the field, think about seven man protections. Even if you can't block all of their blitzers, you can at least protect from inside to out and force them to take a longer path to the quarterback.
Sprint out or quick bootleg from gun. Isolate run/pass defenders and attack them in the flats, on the corner, and so on. Get outside of the garbage inside. The quarterback must know he can't dilly dally, however. It must be first pass choice, second pass choice, run or throw it away.
Screen them. Fast screens in particular, but also tunnel screens, runningback screens, and so on. Try to use their aggressiveness against them. Get to the perimeter and away from the junk and get the ball to playmakers in space.
Don't underestimate four verticals, if you have a chance to protect it. If they want to fly around like that you might be able to hit the seam or the sideline throw. The quarterback must know he has to pick his progression of receivers based on the pre-snap location of the free safety and go 1-2- throw it away. Use their confusion and aggressiveness against them, as in the video clip below.
Overall, my thought process is to focus on formationing the defense with an eye to running the ball and throwing screens. See how they match up to trips to one side, two receivers and a tight-end and wing to the other, two-back shotgun, and, if your quarterback can run the ball, no-back. See if all their defensive movement won't get them into trouble. If the defense doesn't cover all the receivers, throw fast screens. If they stretch out and give up gaps and bubbles inside, run the zone play inside. If they pack it in and cover the receivers, then think about some speed option with outside zone blocking.
Let me know your thoughts in the comments.