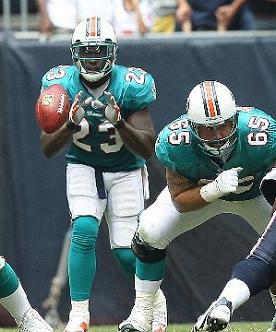 Jon Gruden will one day run the spread in the NFL. Either that, or he will die trying. People may not realize it, but Gruden coached the run and shoot under Walt Harris at Pacific, and gave some thought to committing to that offense full time. Instead he made a career choice to focus on the west coast offense. From that perspective (two NFL coaching gigs and a Super Bowl), it worked out. But he is not averse to being wide open, and he clearly is enamored with the wildcat and what the spread guys are doing in college. (Keep in mind that his brother Jay was an Arena league player and coach for a long time.) Gruden has spent the whole offseason focusing on the spread, including attending Urban Meyer's coaching clinic at Florida this past spring (with Bill Belichick, who raved about Gruden's clinic lecture). Anyway Gruden is back at it now that Vick has been signed:
Gruden is bullish on the limitless NFL possibilities of the spread offense and its baby brother, the Wildcat formation. It's become all the rage in college football, and Gruden thinks the time is ripe to bring it in a big way to the pros. . . .

"I wanted to use it last year, but we had some injuries and shied away from it a little bit," Gruden said. "But it's been something I've been studying.

"When you pick up a college tape, 90 percent of those guys, you never see them under center. Ever. All you're seeing is spread-read options. There are guys like Tim Tebow, who is going to be coming out next year, somebody is going to take him, and somebody is going to have a plan for him. Vince Young has struggled the last couple of years. But he was wicked in that Rose Bowl game against USC. He ran for 200 and threw for 200.

"Then there's Vick. He's certainly a candidate to run the spread. Everybody's got a guy [who can run it]. Brad Smith with the Jets. Michael Robinson in San Francisco. Isaiah Stanback in Dallas. Everybody's got a guy that can throw a little bit. I think there's a wave coming."
I'm inclined to agree.
The article goes on to note further reactions from around the NFL. If one thing is clear, there will be, at least early in the season, plenty of experimentation with this stuff. Whether it is that good remains to be seen.
"What the league hasn't seen yet is the Wildcat with a true passing threat there," said Jets defensive coordinator Mike Pettine, who spent 7 years as the head coach at William Tennent and North Penn high schools. "Because if you have both, whether it's a Vick or a Pat White, the key is whether he can withstand the punishment of basically playing tailback as well [as quarterback]. How long will they be able to withstand the pounding of it?"

While Pettine acknowledges that Vick certainly will pose problems for opposing defenses in the Wildcat, he thinks the Dolphins' White, who was taken in the second round of April's draft, actually might be better fit for the role.

"A lot of [Vick's] runs [with the Falcons] were scrambles," he said. "I don't think they had a lot of designed runs for him. Plus, it remains to be seen whether he can withstand the type of punishment you're going to take playing almost a tailback-type position. "Pat White, to me, would be a [ideal Wildcat] guy. He had a lot of called quarterback runs at West Virginia. He was basically a tailback who had good enough passer skills."

Even before the Eagles signed Vick, they already had expanded their Wildcat package this summer. They figure to expand it even more now with the arrival of Vick.

"The package has grown a little bit," coach Andy Reid said. "Can Michael eventually do that? Sure, he can do that. Are there other things we can do [with Vick]? Yeah, he can do other things. We'll see how all this works out. He's got to get back into the swing first. But at the same time, I can't tell you that things wouldn't be added to a package here and there.

"With Michael and Donovan [McNabb] and DeSean, we have a couple of guys that can run pretty fast and run the ball pretty good. So you add all those things up and you can have some fun."

. . . . Opinions of the Wildcat are mixed around the league. Some coaches think it could be The Next Big Thing. Others view it as a gimmick that will die out as soon as defenses prove they can consistently stop it.

"The single wing's been around a long time," Giants coach Tom Coughlin said. "[The Wildcat] is just revitalizing something that was very successful at one time. It certainly was an innovative move [to bring it back]. We'll see how that goes. We'll have to wait until the season to see how much it gets used and whether anybody really has an answer for it."

Said the Jets' Ryan: "I think it's a good weapon, I do. And you're talking to the guy that stopped it not once, but twice last year. It's more of a weapon if you have a guy like Vick that can throw the ball." [Rex Ryan might be the most entertaining coaches in the NFL right now.] . . . .

"Defenses, when they see Ronnie Brown taking that direct snap, when see [Falcons running back] Jerious Norwood taking that direct snap, defenses take the safety out of the middle of the field and get into zero coverage, knowing that the guy isn't going to throw it," said Gruden. "When that guy back there can be a threat to throw it, it'll be real interesting to see what defensive coordinators do."

Ravens coach John Harbaugh said he's not going to lose any sleep over the Wildcat.

"I hope we see it every week," he said. "Because our defense is set up to defend it. If you've got a good front seven, you don't have to commit a safety to run or the option. That's the way it worked for us last year against Miami. We didn't have to [bring up a safety]."

"Our approach against the Wildcat was we had to be sound in what we did and make sure the edges were set, and we needed to beat blocks," said Pettine, who was the Ravens' linebackers coach last year. "The one thing the Wildcat allows you to do, it's like playing with an extra guy. It's the single-wing mentality. They now have an extra blocker. They can remove one more defender by splitting the quarterback out. Now you're getting two-back runs out of one-back spacing on the defense's part."
I will have a more detailed wildcat post up in the future, but there are three factors that the wildcat brings together that work great together, though is also somewhat limiting, but can also be disaggregated.
The quarterback is now an athletic ballcarrying threat, which indeed "is like an extra blocker," and also provides for great faking opportunities in the backfield.
The base wildcat uses a "jet sweeper" in motion across the formation who can either take the handoff at full speed for a speed sweep, or just fake the handoff, thus getting the linebackers flowing and allowing the quarterback/wildcat back — i.e. Ronnie Brown — with plenty of space for up the middle and cutback runs.
The unbalanced line. I am surprised more teams don't use this in both college and pro ball, but this too adds to the confusion on defense and can creates extra gaps or holes to run through.
The "wildcat" uses all three, but the spread/single-wing stuff, more generally, can use only the athletic quarterback, while other plays can integrate the unbalanced line or speed sweeper. Indeed, Miami did a nice job with the speed sweeper even with Pennington at quarterback. And especially late in the season, including their last game where they beat the Jets, they won they used that look for play-action quite a bit, and Pennington hit several completions. Again, I will have more to say on the details here, but to me, "wildcat" should only refer to the base package that uses all three of those ideas together. Yet there is plenty of room for experimentation in the future.
(Ht SpreadOffense.com for the article.)