My LSU/West Virginia preview is up over at Grantland:
The intrigue surrounding Les Miles, Louisiana State's coach, and Dana Holgorsen, West Virginia's first-year head coach, has little to do with what their teams have done on the field. When they play each other Saturday in Morgantown the public will know them as football coaches, but also as something closer to memes. There is Miles, The Mad Hatter, with a 10-gallon ball cap on his head and blades of stadium grass dangling from his lips, mismanaging a timeout to call a miraculous fake field goal that wins an SEC road game; and there is Holgorsen, Holgo the Barbarian, stray wisps of quasi mullet fluttering in the wind as he chugs a Red Bull on the sideline, calling a play-action bomb to one of three or four receivers. . . .




. . . Take this play and its built-in adjustments, multiply it across 10 or 15 other plays, and there's Holgorsen's offense: Simple, heavily practiced, and adaptable. This aspect is very similar to the Mumme/Leach Air Raid, but the Holgorsen system has its differences. Leach's offense was dynamic, but often felt like death by a million shallow crosses — short, crossing patterns by receivers running in various directions. But all those quick, breaking routes can give away the play's intention. If a receiver breaks for a shallow within his first or second step, the defense can adapt to the play by double-covering other receivers. On the other hand, if every pass play looks the same — the receivers begin almost all plays by running vertically up the field — then the defense has nothing to key, and the likely result will be an open receiver. The biggest change Holgorsen made to the Air Raid playbook has been to eschew the shallow crosses (he still uses them sometimes, but mostly as adjustments) in favor of routes that push downfield. Several Air Raid disciples tweaked the offense with more shallow routes — that is, by being more spread. Holgorsen went the other way. He brought backs into the backfield, added play-action fakes, and made his pass patterns all look the same. And now the Air Raid is even deadlier.

. . . One final point to make about the fire zone blitz is that it is not meant to be overwhelming. The goal of an old-fashioned "bring the house" blitz is to flood the offense with more pass-rushers than they have blockers. A zone blitz sends only five rushers, and most offenses have at least five players in pass protection, so a zone blitz can't overpower an offense through numbers alone. Instead, it's designed to work against the protection scheme, either by confusing the blocking assignments, overloading a particular side, or simply by getting a good matchup. It's this last possibility LSU's Chavis seems most likely to exploit, specifically by forcing one of West Virginia's diminutive running backs to step up and block a future NFL linebacker. LSU knows it's got better players than West Virginia, and it also knows that the Mountaineers' best chance to win is to get in an offensive rhythm and exploit the gaps in whatever defense LSU plays against them.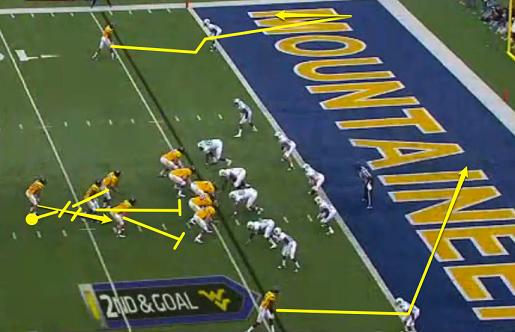 Read the whole thing. Special thanks to Coach Indiston, David Ridley, Brophy, Coach Hoover, Blitzology, and others for helping, both directly and indirectly, with researching the piece.