Howard Schnellenberger is retiring. There is a lot to be said — and his persona was… unique — but the bottom line is that this is an important moment. Bobby Bowden and Joe Paterno are more famous links to an older era, but they were also institutions at their own institutions; their reach was/is (in the case of Bowden and Paterno, respectively), limited largely to their specific schools. Schnellenberger's reach across football is almost difficult to fathom from the vantage point of 2011: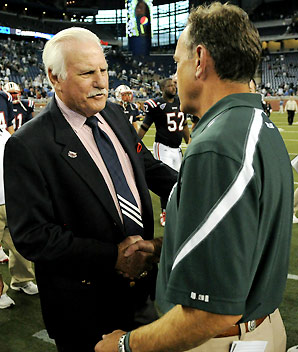 He played for Bear Bryant at Kentucky.
He coached for Blanton Collier (who was Paul Brown's right-hand man at the Browns before becoming head coach himself).
He was Bear Bryant's offensive coordinator at Alabama (and won three National Championships while there).
He was Don Shula's offensive coordinator for the Miami Dolphins, including for their undefeated 1972 season. He became head coach of the Baltimore Colts, before returning to coach for Shula at the Dolphins, and they returned to the Super Bowl in 1982.
He essentially invented, resuscitated and established the championship winning program at the University of Miami.
He essentially invented, resuscitated and established the respectable and bowl winning program at the University of Louisville. Howard defeated Alabama in the 1991 Fiesta Bowl 34-7; Louisville had almost discontinued the football program before he arrived.
He literally invented, resuscitated and established the bowl winning program at Florida Atlantic University. FAU had no program before Schnellenberger arrived; within two years they were playing football; within seven years they were a Division I program; and within nine years they had won the Sun Belt Conference Championship and won their first bowl game. They won their second bowl game the following year.
Howard has had his stumbles — he was fired from his job with the Baltimore Colts and there are few Oklahoma Sooners fans with fond memories of Howard — but in the big moments, when the big, grandiose plans are on the line like having an undefeated season, seeing UM become a national powerhouse, seeing Louisville in  BCS conference, and seeing Florida Atlantic having a football team at all (let alone a pretty solid one), Howard came through. Indeed, Howard just has a knack for the big moments; there's a reason why he never lost a bowl game.