Is Bill Belichick moving the Patriots away from the 3-4 defense? The buzz in Boston is that they are. Here's a video clip of Richard Seymour talking about it and excerpts of a Q&A Seymour did with the Boston Globe's Reiss's Pieces blog:
4-3 vs. 3-4 defense

". . . .We have the versatility to play in a lot of different fronts, a lot of different packages, whatever is going to give our team the edge. You know, the offense always knows where the play is going and the snap count, so if we can do some different things on defense to help us out in that process, whether it's the 3-4 or the 4-3, whatever can give us the best chance to win." . . . .

Does the 4-3 allow him to stand out as a pass rusher?

"It depends on what we're executing. It isn't always about sacks, [that)] can be overrated. It's about getting pressure on the passer, taking care of your responsibilities first. There's a time and a place for everything. If it calls for us to penetrate, get in the backfield, then that's what we'll do. But sometimes we'll 2-gap, when playing 4-3 front as well. Some teams have different philosophies, where it's a 1-gap defense, but we still 2-gap and everybody is responsible for two gaps."
It's way too early to tell anything firm (I haven't even been able to watch the Pats this year yet!), but a few points to remember. One, this is not necessarily a huge change in philosophy. Nick Saban, a Belichick protege, has managed to cycle between being a 4-3 and 3-4 guy as his personnel has dictated, without a lot of changes. Second, a big move these days is the rise of the 4-3 "under" look, where the backside defensive end is some kind of "hybrid" guy who can play either outside linebacker or defensive end. That way a team like the Patriots could still basically play with their usual three linemen — Seymour, Wilfork, and Warren — and the hybrid guy could move seamlessly between being a true 4-3 defensive end or an outside linebacker.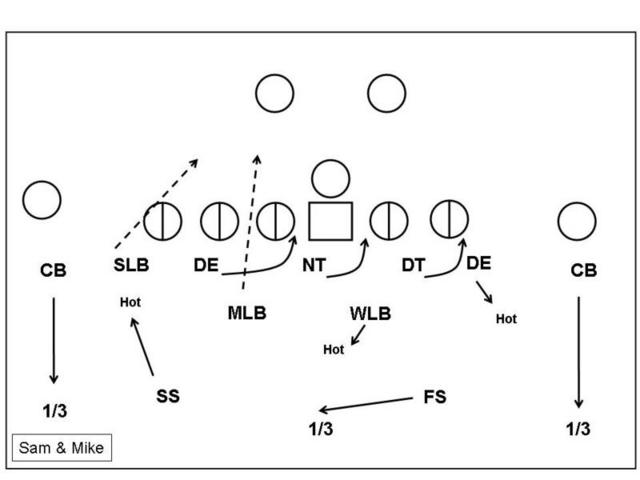 Indeed, in the diagram above of a zone-blitz he drops off. Is he a linemen dropping back, or an outside linebacker? It honestly doesn't matter too much.
The other thing Seymour mentioned was the use of one-gap or two-gap principles. Most 4-3 teams  consider themselves "one-gap" teams, meaning each guy steps to a gap. A lot of 3-4 teams consider themselves two-gap, which means that, say, a nose guard is responsible for the gap to either side of him. In practice they still will play a one-gap because they will step where the linemen are, but this is an important thing when designing a defense and dictating the angles of the linebackers and safeties when they play run. It sounds to me though that Belichick is comfortable moving between the two somewhat, maybe even on the same look. The old 46 defense that Buddy Ryan used with the Chicago Bears was a one-gap defense where the nose guard was responsible for two gaps. It can be adjusted.
Which leads me to believe that Belichick is primarily just looking for more tools in his belt to be able to throw at people later. The offense should be in solid shape, while the defense saw a fair amount of attrition combined with an influx of new guys that will need to be fit in there, somewhere. It will be interesting to watch, for sure.
Hat tip: PatsPropaganda.