Trackemtigers asks whether Cam Newton played in a "one-read passing offense" at Auburn, something you keep hearing from the media. Most of the talking heads vaguely use this term, usually implying that Newton literally would look at one receiver and, if he was covered, instantly start running. This kind of confusion is understandable given that teaching quarterbacks where to throw the football both seems like a bit of an inscrutable black art — which takes years to master the often subconscious subtleties necessary to do well  — but also because there are simply many different ways to do it.
Compounding this in Newton's case is that almost all the attention on his offensive coordinator Gus Malzahn's offense has been on the running game, while the passing game has received very little attention. This is not a surprise, given the dynamic and multifaceted run game Malzahn employs, and given that, especially with Cam, the run set up the pass. But it ignores the fact that Auburn led the nation in passing efficiency and threw for over 3,000 yards last season — we're not talking about Paul Johnson's flexbone here.
Indeed, Malzahn's reputation as a high school coach was as an air-it-out guy, and in his first season at Tulsa in 2007, the Golden Hurricane were second in the country in passing yards with over 5,000, behind only pass-happy attacks from June Jones at Hawai'i and Mike Leach at Texas Tech. (They were also second in the nation in yards per attempt, behind only the Tebow-led Florida Gators.)
So Malzahn knows the pass, and Newton was obviously good at what he was asked to do. But what was that? I can only speculate on what specifics Cam was given, but I am familiar with Gus's passing game and have a strong idea of how it was tailored to Cam Newton.
Gus, going back to Tulsa, uses progression reads, meaning his quarterbacks read the first receiver, to the second receiver, to the third receiver, and so on. That means that there's no way Cam was given a "single read" — a single receiver to look at — or did Malzahn literally tell him to only look at one guy and to ignore everyone else? No to the first but, at least sometimes, yes to the second. This is because if there was one read it was not a single receiver, but a single defender.
For example, take the smash concept, a play that Gus has in his arsenal. The progression on the play is: corner route to hitch/underneath route, making it a two receiver progression (and a third if you have the runningback checking down over the middle). But you can also teach the play as a single receiver "key" read: Read the corner — if he stays with the hitch, throw the corner; if he drops for the corner, throw the hitch.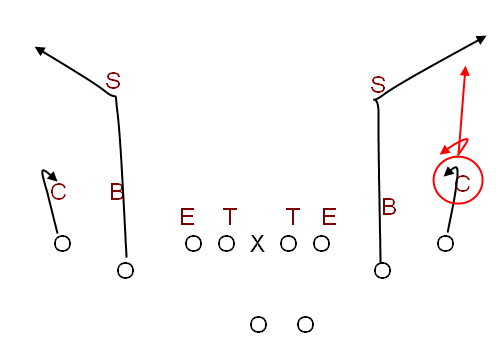 Thus in this case, it might not actually be inaccurate to say that Newton had only a "single read," but it's also a bit misleading. Indeed, many NFL quarterbacks only have a "single read" if this is the definition, though they might have some other read or key telling them which single read to focus on. But, while I think this "single read" was sometimes the case, I think more likely Gus used the progression read, giving Cam the typical suite of "reads": one, two, three, throw-it-away/run.
Chris Petersen of Boise State once set forth his view of a quarterback's development as follows:
(more…)