When asked earlier this season how he would describe the current trend in modern defenses, New Orleans Saints coach Sean Payton summed it up in one word: "confusion." While there are few truly "new" ideas in football, there is a near infinite number of ways to hide, disguise, or slightly vary those ideas. One increasingly popular idea in the NFL is the "psycho front", which simply refers to a defense that has two, one or maybe even zero defensive linemen with their hands on the ground and tends to stack the line of scrimmage. This may mean the defense is bringing a heavy blitz — or it might not. Often, the defense will show this look and then back out of it into some kind of coverage.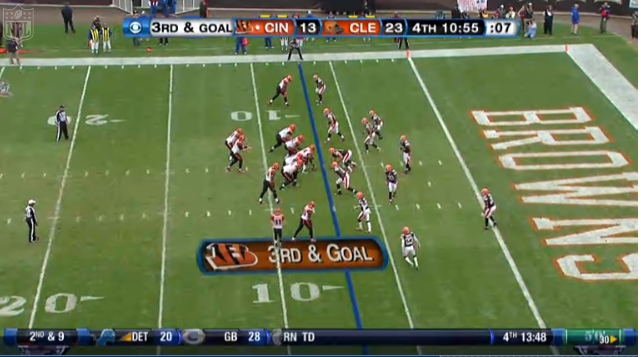 The advantages of the pyscho are many, but the biggest key is that confusion Payton talked about: it's difficult for the quarterback and offensive line to determine which of the potential rushers will blitz — other than through mind reading — and with so many of them there is a high likelihood that there will be an assignment bust. Further, although the defense might give away what deep coverage it is playing, it's not clear what kind of underneath coverage it will be — man, zone, and if zone how many underneath? Two? Three? Four? These are real issues.
Of course, the psycho itself is just a spin on some scheme done before; the fact that a defensive lineman takes his hand off the ground doesn't, by itself, change the defensive structure. Indeed, these same issues have been presented by NFL-style heavy blitz teams in the past. The problem presented in the image below is the same one as in the image above, as the defense shows a seven man defensive front while the offense has only the five linemen and one running back as pass protectors. If the offense uses some spread run game they can tilt the numbers slightly back to their favor, but it's still a big issue.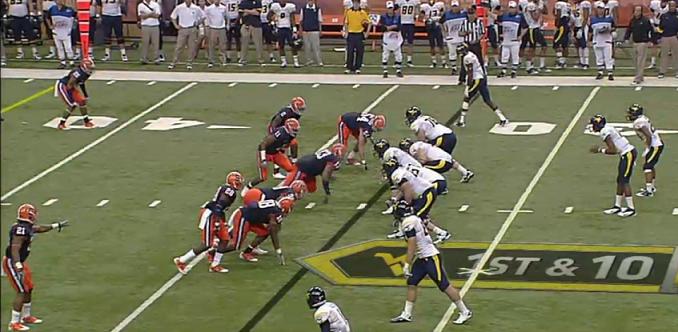 So how do you attack these looks? Ultimately the offense will need the ability to protect and complete some passes downfield, but that's not where I would begin. Below is a short list of ideas (in no particular order) to defeat these heavy or "psycho" fronts where the defense simultaneously threatens all-out man blitz, confusing zone blitz, and no blitz, all at once. Note that this is from the perspective of either a pro-style team or some kind of pass-first or pass-balanced spread team.