The below is an excerpt from the new book by passing guru and friend of Smart Football, Dan Gonzalez, titled Recoded and Reloaded: An Updated Structure for a Complete Passing Game at Any Level, which expands and builds on his earlier book, Concept Passing. You can find the book on Amazon and CreateSpace.
For all the talk in football about "systems" — the Air Raid system, the West Coast Offense, the Run and Shoot, a Pro-Style System — there is very little discussion of how does one go about building an effective system, and what makes a system effective. There are a few cliches that everyone throws around when discussing systems, that each seem to contradict each other: they have to "have answers" while being "simple"; they have to be "easy to learn and communicate" but be "flexible" enough to account for "multiplicity"; and they have to be "cutting edge" and "new" but still rely on "sound football principles." This isn't to say all of this can't be accomplished — I believe they can — but it's clearly not easy. I put a significant amount of thought into this as I wanted to rework my existing passing system.
I began by trying to simplify the existing system. But, while simplifying a structure to accommodate beginning learners is relatively easy, as all you may need to do is simply be a matter of stripping away layers from a complex organization, you might be left with something very incomplete. You might be "simple" but not have "sufficient answers."
Because of my coaching background, a system overhaul required not only accommodating the most basic in features; the ability of the scheme to "grow" into a complete pattern system is a non-negotiable as well.   So what makes a pattern system complete?  As a fledgling coach, the great Homer Smith's influence on how I conceptualized the passing game could not be overemphasized.  His willingness to correspond, send me game and drill footage, and converse with me crystallized my vision of what I wanted in my system.   The first page of my quarterback manual reiterates what he imparted to me, namely the characteristics I've outlined below. It's my belief that any well designed passing system must have all of these traits.
(1) It gives receivers the opportunity to defeat tight man coverage

.  This is more than simply having one or two "pick" plays (Figure 2-1) that a team uses.   It encompasses development of release and separation techniques on individual routes, and the emphasis of accuracy and timing on the part of the passer, and having viable options that can separate from man coverage on every pass play.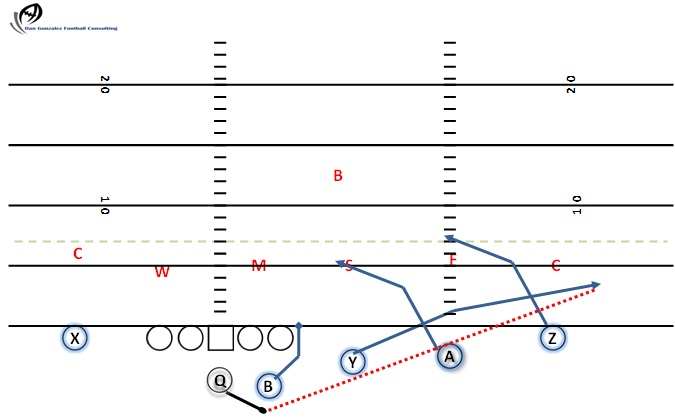 (2) Prevents conflict between receivers

.  Figure 2-2 shows an example of receivers whose pass routes "bleed" into one another.  In other words, the routes are so close in proximity that two defenders can cover three offensive people.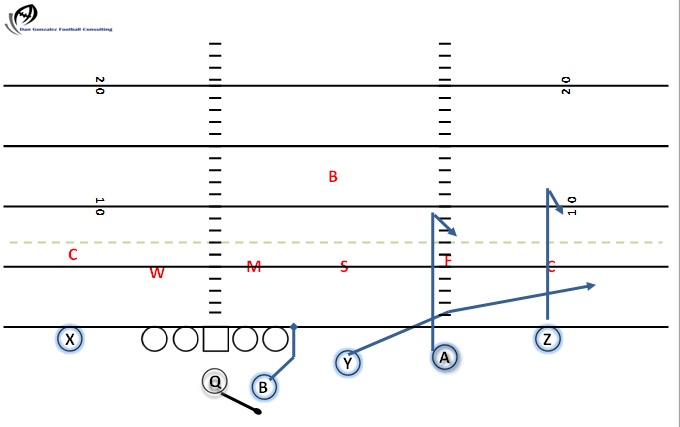 Our stretches are designed to isolate a specific defender, and make sure there is enough space so that one defender cannot cover two receivers (Figure 2-3).