Since the invention of the zone read from the shotgun, coaches have dabbled with creative ways to add a third option for the quarterback. Early on, teams added a second runningback or receiver looping around for a traditional pitch, while others have added bubble screens where the receiver can either get the ball right at the snap as a pre-snap read or as a late option after the quarterback has kept it.
And for at least the last six or so years — but probably more like ten — teams have given their quarterback the ability to throw downfield as part of the pitch phase. I don't know who was first, as some say it was Rich Rodriguez, others point to the Todd Graham era at Tulsa when he had offensive coordinators Gus Malzahn and Chad Morris, but I first saw the play back in 2007 and it seemed to gain some momentum in 2011 as Graham at Pittsburgh and a flurry of high school teams scored touchdowns with it. But there's no doubt the play hit the national consciousness when Gus Malzahn's Auburn team scored their penultimate touchdown against Alabama in the Iron Bowl with the play.
When Auburn ran the play they ran it with as many as four options for the QB, though my understanding is they also sometimes just called it as a called keep for the quarterback where he could either run it outside or throw it downfield. The purpose of this wrinkle isn't really to just hit an easy touchdown pass when the defense falls asleep — though it does that too, just ask Alabama — it's to create real run/pass conflict for a cornerback who is a run "force" defender to the backside.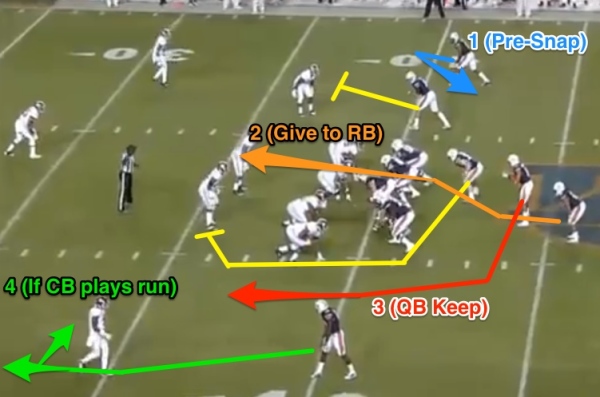 Against teams that use the QB as a run threat, like Auburn, defenses need to get secondary players involved in run support. Sometimes that means safeties but other teams a corner will be the "force" defender whose job it is to set the edge and funnel runs inside, as with Cover 2. The traditional bubble or pitch concedes the edge of the defense to the force player, while these concepts put him in what is essentially a high/low bind: either he stays with his man and gives up easy yards to the quarterback or he comes up and gives up big yards behind him. In Cover 2 it's the safety's job to get over to the receiver, but that's why the WR doesn't fly upfield on a streak route. Instead it's a "hole" throw, just behind the corner and before the safety can get over.
This isn't the basis for an entire offense and doesn't represent any kind of football revolution, but it is a sound concept, which is why I'm not surprised the NFL has taken notice. Last night Seattle QB Russell Wilson threw a TD pass against the Packers on this very concept (h/t SBNation):
After the game, Seattle head coach Pete Carroll copped to getting the play from Malzahn and Auburn: