It's now up over at Grantland:
This season, Auburn has been anything but balanced — not that it has mattered. The 2013 Tigers are the first SEC team to average more than 300 yards rushing per game in almost 30 years. (The last team to do that? The 1985 Auburn team led by Bo Jackson.) But while Newton and current Auburn quarterback Nick Marshall both ran for more than 1,000 yards in Malzahn's offense, they did so while using very different approaches. At 6-foot-6, 250 pounds, Newton was essentially Auburn's power back, and Malzahn featured him on a variety of inside runs. Marshall, by contrast, is shorter and lankier than Newton but boasts great quickness and acceleration. As a result, Auburn's 2013 offense has focused less on the core wing-T run plays and more on zone reads to get Marshall on the edges while allowing Mason to use his excellent vision and patience to find running lanes.

The backbone of Auburn's current rushing attack has been an amped-up version of the zone-read, which gives Marshall as many as four options: (1) throw a receiver screen, (2) hand it to Mason, (3) keep the ball, or (4) keep the ball and then toss it to a receiver who can sit in an open area of the defense if the man covering him comes up for the run — a form of the quadruple-option.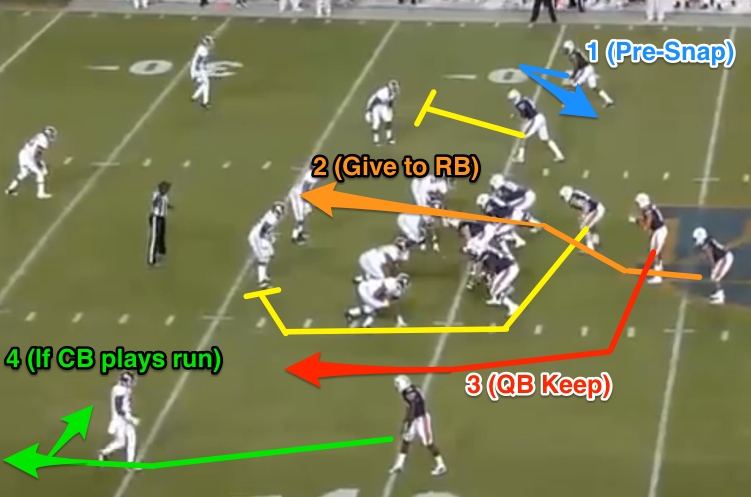 […]

Although Marshall running the shotgun zone-read is far afield from the old-school wing-T, these subtle adjustments are pure Raymond: They're sequenced plays, in which the base play sets up the counter and the counter sets up the counter to the counter, all dressed up with misdirection.
Read the whole thing.