It's now up at Grantland, and I can safely say it's the most definitive piece on Chip Kelly's offense I've written: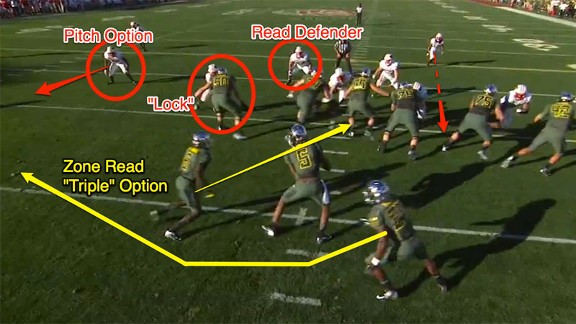 Kelly's anecdote about his old high school team suggests another possibility. Chip Kelly's offense works not because it's a gimmick, but because rather than choose sides between old and new, Kelly's teams straddle history. Oregon is successful because it does well what good teams have always done well, albeit with a slightly more modern wardrobe.

"We spread the defense so they will declare their defensive look for the offensive linemen," Kelly explained at that same clinic. "The more offensive personnel we put in the box, the more defenders the defense will put in there, and it becomes a cluttered mess." Twenty years ago, Kelly's high school coach ran the unbalanced, two–tight end power-I, so he could execute old-school, fundamental football and run the ball down his opponent's throat. Today, Kelly spreads the defense and operates out of an up-tempo no-huddle so he can do the exact same thing.

[…]

Time will undoubtedly tell whether Kelly's offense can work in the NFL, but my vote is that it will. It would require Kelly finding the right players, but a Chip Kelly–coached NFL team would win for the same reasons that the Chip Kelly–coached college team wins. Behind the speed, the spread, the Daft Punk helmets, and the flashy uniforms, Oregon ultimately wins with old-fashioned, fundamental, run-it-up-the-gut football. I think everyone, even fans of the spread offense, can appreciate that.
Read the whole thing. In addition, I've got some additional stuff I left on the cutting room floor that I hope to put on the site in the coming days.