[Ed. Note: This post is by Jerry Gordon, a defensive guru (and good friend of mine). He recently authored a book on the 4-3 under, Coaching the Under Front Defense.]
The term "run to daylight," made famous by Vince Lombardi through a book named just that, became a mantra for running back coaches across the country. It is also (unsurprisingly) exactly what defensive coaches fear the most — a runningback who can see the hole and run to daylight.
I was a college running back coach for six years in the early and mid 1990s and coached a kid, Rene Ingoglia, who did a bit more than simply havet a cup of coffee with the Buffalo Bills.** I asked him what he saw when he ran the ball and how he always seemed to find the hole. He told me that all he saw were flashes of color and he simply went to the hole where there was no color.
From us defensive coaches, it is up to us to provide a solid wall of color that encompassing every possible hole or gap. Although this seems simple in theory, it is much harder than it appears. Defensive coordinators are confronted with a number of problems.
First lets take a look at the I-formation, the formation of the great running teams of yesteryear. Over the decades the I has produced some of football's most prolific rushers, including Archie Griffin of Ohio State, O.J. Simpson of Southern Cal, and Herschel Walker of Georgia. Any defensive coordinator worth his salt has to have a plan for the I.
As you can see in the image below, an offense in the I presents seven gaps to defend.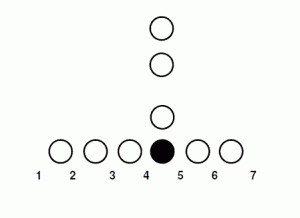 As stated above our goal is to put a player in each gap. The problem is that the gaps are not stationary. Let's take a look as the offensive lineman come off the ball to our left .All the gaps have moved. Each defensive player must move and still fit into his proper gap. Remember the offense know the snap count, we don't.
In the diagram below, all our gaps have moved to our left.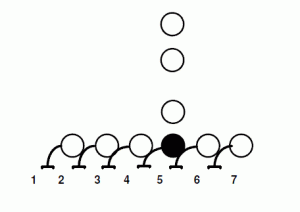 In the next figure, we are aligned an under defense, which a common front against teams that have a tight end and two backs in the backfield. Under defense is generally characterized by a linebacker over the tight end, defensive ends aligned in an outside shade on the offensive tackles, a nose shaded on the center to the tight end and a defensive tackle in an outside shade away from the tight end.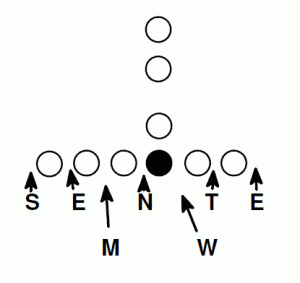 The important thing to remember is that it doesn't matter what front we present to the offense — all gaps must be filled with color. A motto that I picked up from CoachHuey.com is to "play defense, not defenses." It's more important that we play well as team than to present a ton of different defensive looks to the offense.