For the last five or six seasons, the so-called Inverted Veer (also known as the Power Read) has been one of the most effective plays in football, and it has been the weapon of choice for some of college football's greatest talents, including Cam Newton and RG3 and now Lamar Jackson, Deshaun Watson and Jalen Hurts. Yet, as is always true in football, defensive coaches do not stand idly by as offenses innovate and have begun devising better and better ways to shut down the play.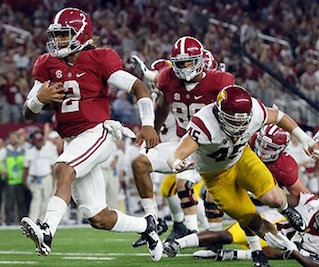 But the cat and mouse continues, as while defenses have gotten better at defending the Inverted Veer offenses have, in turn, responded with new wrinkles, particularly this season and particularly from the two teams who will be playing in the National Championship Game, Alabama and Clemson. But to appreciate those wrinkles one must understand why the Inverted Veer was developed and why it works.
For most of its early history, the play most synonymous with the so-called "spread offense" — at least the version that featured multiple receivers and a dual-threat quarterback lined up in the shotgun — was the zone read play, in which the offensive line blocked an inside zone running play while the quarterback read or optioned an unblocked defender. An ingenious evolution (typically credited to current Arizona coach Rich Rodriguez when he was at tiny Glenville State), the zone read allowed teams to dress up their traditional zone blocking by leaving backside defensive end unblocked and thus either eliminating the threat that he tackles the runningback or making the defense pay if he crashes down.
But the zone read, while a great concept, is essentially just a hypercharged bootleg, and works best as a constraint to control the backside for an otherwise effective zone running game. But traditional option football, which the zone read in part derived from, almost always involves reading a frontside, not a backside, defender. And the reasons are simple: numbers and angles.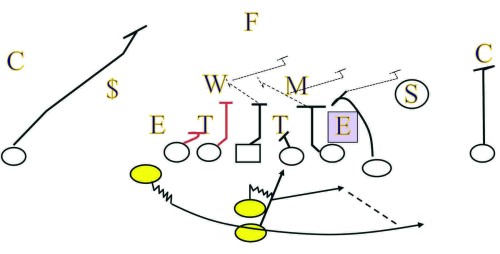 As the diagram above shows, a well designed and executed playside option play should give the offense a numerical advantage as well as great blocking angles; in short, the playside of the line can ignore one or two playside defenders who are being read (and thus should be made wrong by the QB's reads) as they build a wall to seal off the backside.
Birth of the Inverted Veer/Power Read
By the mid-2000s, the shotgun spread-to-run and specifically the zone read had begun sweeping across college football, both as pioneers like Rich Rodriguez and Urban Meyer lit up scoreboards and moved up the coaching ranks and also as bluebloods like Texas used zone read tactics to unleash rare talents like Vince Young. But it wasn't until the end of the decade that spread teams found a way to successfully meld these shotgun spread tactics with old-school, playside reads. And one of the original vehicles for this innovation was an unexpected one: then TCU quarterback Andy Dalton.
Specifically, TCU, under head coach Gary Patterson and then-offensive coordinator (and current Virginia Tech head coach) Justin Fuentes, unveiled a new read play en route to an upset victory over a Clemson team coached by a first year head coach by the name of Dabo Swinney.
"They ran just one play that we hadn't seen on film – but it was a good one," he said. When one reporter asked [then Clemson defensive coordinator Kevin] Steele why the zone read was giving his defense so much trouble, Steele explained the difference between a true zone read and what Dalton was running on Saturday.