I Wear the Black Hat, by Chuck Klosterman. I thoroughly enjoyed this book, though I am predisposed to liking it.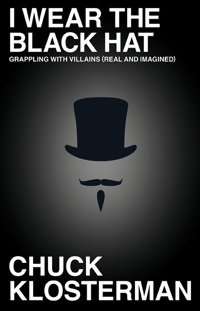 Rock critic/pop culture writer/contributing editor for Grantland/New York Times Ethicist /read option analyst has a rather distinctive style, and, like several of his other books, I Wear the Black Hat is composed of a series of thematically linked stand alone essays which explore the nature of villainy. The subjects of the essays run the gamut, from the movie Death Wish to Bill Clinton to OJ Simpson to Andrew Dice Clay to (somewhat to Klosterman's chagrin), Hitler. But like all of Klosterman's books — and as he repeatedly acknowledges — the meta-subject of the book is himself, and the particular way he processes and turns over cultural figures and ideas is part of an extended self-analysis. So I enjoyed the book, but that probably says as much about me as it does the book itself.
– The Metaphysical Club: A Story of Ideas in America, by Louis Menand. This book, the 2002 Pulitzer winner for History, is nominally the story of the leading thinkers in the school of philosophy (loosely) known as "Pragmatism," namely William James, John Dewey, Oliver Wendell Holmes, Jr., and Charles Sanders Peirce. The book does a nice job teasing out and explicating the key features of pragmatism, commonly referred to as the United States's greatest contribution to philosophy, but its real strength is placing those ideas, and more importantly the men who worked through the philosophical questions and propounded possible solutions, in their historical setting, primarily the era of the Civil War and its aftermath. The book is not so much a contribution to academic philosophy, although it did flesh out some things for me and raises excellent questions along the way, its primary value is as a well-written history of pragmatic thought.