During last night's Oregon victory over Oregon State, the announcers mentioned that Chip Kelly's squad will vary their zone read by reading defenders besides the backside defensive end — namely, the defensive tackle or "three technique" player.
In the "normal" zone read, the line zone blocks one way while the quarterback reads the backside defender: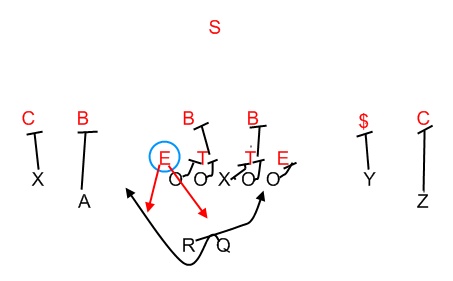 There are a variety of counters to this, including the infamous "scrape exchange," and in response offenses have added third options and bubbles and all manner of other ideas to the outside. But Oregon, along with several other spread teams, have also responded by moving inside, by reading the defensive tackle instead of the defensive end. See the diagram below: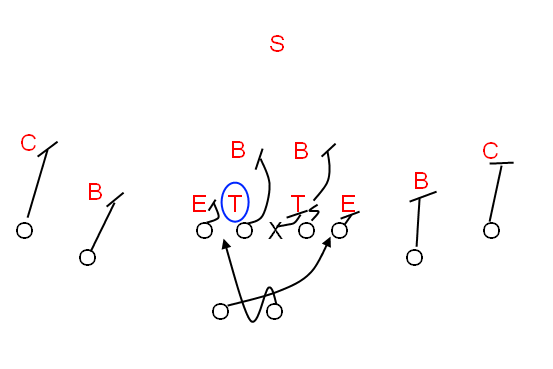 This does a couple things for you. One, it can confuse the "scrape exchange" response, where the defensive end crashes to force a "pull" read by the quarterback while the linebacker loops outside for him, because the defensive end gets blocked and the QB should have a big gap inside. And, second, it gives you flexibility in who you choose to block versus read. As the old saying goes, if you can't block them, read them.
For example, when LSU had Glenn Dorsey, Urban Meyer and Florida often used this same tactic to read him instead of trying to block him. (And I wouldn't be surprised if Florida did this against Alabama's mountainous defensive tackle, Terrence Cody.)
So what does this look like in practice? Fortunately, Trojan Football Analysis has already broken it down, after the Ducks thrashed Pete Carroll's USC defense with it. Below is some of the photo evidence, though you should go to TFA to read the whole thing.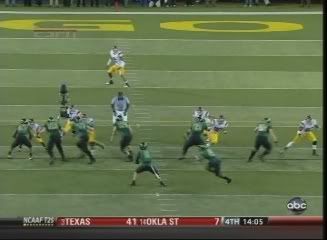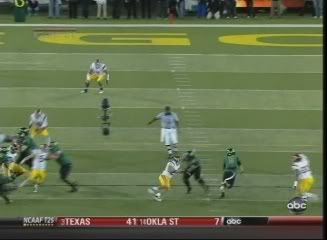 Below is the same play from a sideline angle: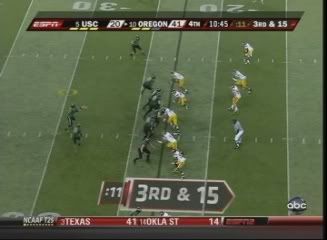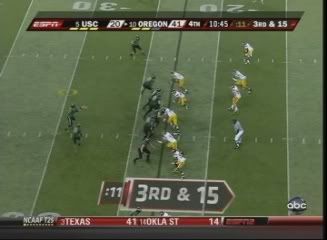 As you can see, it's a simple adjustment as well as a simple one. And, for a further wrinkle, I had a reader tell me that Oregon will run the "power" play but read the playside defensive tackle. That will have to wait for another post, however.