It's now up over at Grantland:
No position is more scrutinized — How tall is he? How far can he throw? Who is he dating? — and nowhere in football is greatness valued or debated more, but exactly how young, promising quarterbacks become Tom Brady and Peyton Manning remains something of a mystery. The results are apparent, but most are unversed in the actual process. Manning, Brady, and Rodgers are great because they've taken the raw materials of the position — an understanding of defenses, of why receivers get open and how to find them — and transformed them into muscle memory they can use to fluidly perform, every time. Greatness isn't something quarterbacks stumble upon. It's something that becomes ingrained into their very constitution.

[…]

Now, let's say the quarterback's first read isn't open. How does he know when to move to the next receiver? The idea of finding a secondary receiver leaves some quarterbacks looking like they just lost their wallet. For others, like Brady or Manning, it looks easy, and it's because it's not only their brains telling them when to look.

"His feet are telling him when to move to no. 2 and no. 3," current San Francisco head coach Jim Harbaugh said to a room full of quarterback coaches back when he was coaching at the University of San Diego. "One-two-three-four-five-plant — throw it. If it's not there, first hitch is to the [second read], and then the second hitch is to [third read]."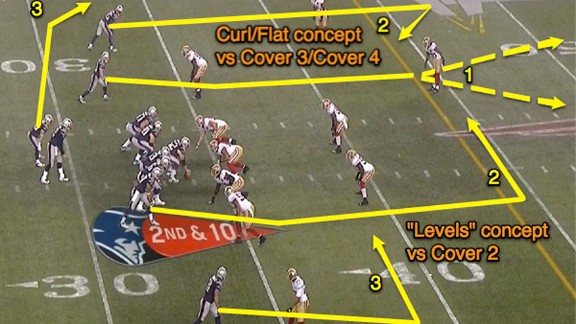 Read the whole thing.