Peyton Manning announced that he has played his last down of football, and it's a sad day for any football fan, particularly this one. It's also simply difficult to fathom a football season that doesn't include him: His NFL career spanned an incredible eighteen seasons, which, when combined with his four seasons as a starter at Tennessee, means he's been the starting QB of a major college or NFL team for the last twenty two years; it's been a very long time since we've had football without Peyton Manning's exploits to marvel at. (And, albeit in the pre-internet/recruiting services age, Manning was as high profile of a recruit out of high school as they come; here's a long-form Sports Illustrated piece on him from 1993.)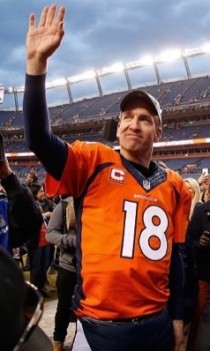 I've written extensively about Peyton Manning in the past, and there is much, much more to say, but for now just a few notes. Peter King has a nice retrospective on Manning's influence on the quarterback position, something that can't be underrated given that he, along with Tom Brady, bridged the QB position from the prior generation of greats — Troy Aikman, Steve Young, Brett Favre, John Elway — to now, a period when the game itself, but particularly the passing game, changed dramatically.
Much of Peyton's legacy centers, quite rightfully, around his mental mastery of the position, particularly his audibles and adjustments at the line of scrimmage: The enduring image of Peyton Manning is less about him standing tall in the pocket, arm extended, with a beautiful spiral extending from his fingerprints, than it is of a frenetic Manning gesticulating wildly as he directs teammates and identifies at opponents, while shouts of "Omaha" cascade in the background. But one underrated aspect of his stewardship at the line was his gamemanship: Many of his signals and calls at the line were ploys to trap opponents.
In that 2002 game, Ismail told Manning the Jacksonville corner, Jason Craft, knew that when Manning made a shoveling motion at the line or called the world "Crane," Ismail would run a short dig route. Later in the game, Manning gave Ismail "Crane!"

"Easiest double move I ever ran in my life. Touchdown," Ismail recalled.
King doesn't include a diagram but I know exactly the play he and Ismail were referring to, known as "Dig Pump" in the old Peyton Manning/Tom Moore nomenclature. The diagram below is from Manning's old Colts playbook: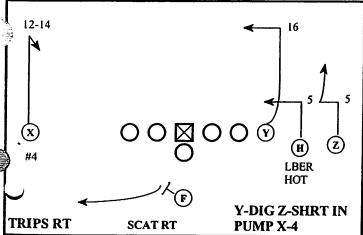 Peyton was notorious for tricks like this I vividly remember him kicking off his remarkable 55 touchdown 2013 season versus the Ravens with a 24-yard touchdown pass to Julius Thomas on a fake receiver screen-and-go, which Manning rather cheekily set up by making the same call right before this snap that he had used earlier in the game to set up a real wide receiver screen pass. Manning, a stickler for fundamental technique, of course sold the fake screen during the play, but the real sales job came from getting inside the defenders' heads.
I have seen Peyton Manning play in person as many times as any professional football player — not to mention the four times I saw him play at Tennessee, including one that remains unforgettable to me (though more for personal reasons than anything particular to Manning or even the game itself) — and it remained a thrill to watch him operate. And two of his seasons are among the handful of very best seasons any quarterback has ever had: 2013, when Manning, after all those neck surgeries and lacking feeling in his hands, launched 55 touchdown passes as he led what some measures indicate was the most prolific offense in NFL history; and 2004, which is possibly the greatest passing season in NFL history:
By ANY/A [Adjusted Net Yards Per Pass Attempt], Manning's peak seasons were out of this world. His 2004 campaign rates as the best single-season performance in league history. Manning passed for 4,557 yards on 497 attempts, threw 49 touchdowns against just 10 interceptions, and took a staggeringly low 13 sacks. He averaged 9.78 ANY/A per dropback, which is awfully difficult to stop.
There will be (and are already) countless tributes to Peyton Manning. The best tribute I can think of is to continue to admire — and more importantly to study — a body of work that young coaches and quarterbacks will continue to scour for lessons for many, many years to come.