I have previously discussed the smash concept, where an outside receiver runs a short flat or "hitch" route while an inside receiver breaks to the corner. The play works well against cover two zones in particular because it puts the cornerback in a bind: if he plays the man in front of him he opens up a big are for the quarterback to throw the corner route behind him.
One reason this play is useful, however, is because it does more than attack this zone aspect. Again man-to-man coverage the corner route is a very good option — so long as the throw is precise and the route is good. One reason for this is because many defenses who play man coverage use inside leverage to take away the quick slant passes that can gash them for big plays and are easy throws.
Moreover, many man defenses use a deep free-safety or an inside "floater" or "robber" player whose job is simply to read the quarterback's eyes. The advantage of the corner route is that the throw is away from all these inside defenders who can gum up a normal "who has beaten his man" read.
Finally, the fact that it is the inside receiver rather than the outside one who runs the corner route can get the offense some favorable matchups: Most defenses put their cornerbacks in man coverage on the outside receivers; the inside receivers are thus often guarded by safeties or linebackers or substitute "nickel back" players.
All of these advantages were on display in Penn State's game against Michigan, as the Nittany Lions scored on the same smash concept from the same formation against the same coverage (indeed, same receiver) twice. Below is a diagram of their play, followed by video, courtesy of mgoblog.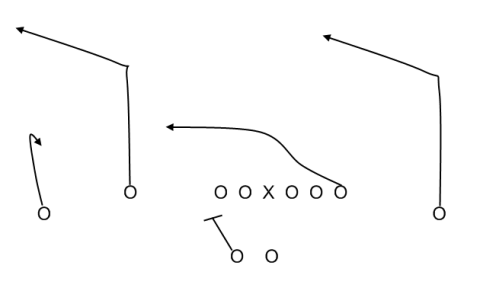 Below is the video: