Iowa, a team that seems to thrive on dramatic finishes, pulled off one of the biggest of Kirk Ferentz's tenure last weekend against Michigan State, as Ricky Stanzi threw a touchdown pass as time expired for the Hawkeye victory. The play itself was as simple as it gets: The old slant/shoot combination, which dates back at least as far back as Paul Brown's teams. Bill Walsh of course made it even more famous, as his receivers frequently caught slant passes and took them for long touchdowns.
As you can see, it worked very well, as Michigan State played man coverage and went with an all-out blitz. Stanzi was able to deliver the ball before Michigan State's unblocked defender (who came from Stanzi's right) could get there. The slant's quickness is one of its advantages.
In the play, Stanzi went to his single receiver — i.e. his split end — who had single, man coverage. But on the other side Iowa ran the same slant concept except with three receivers: The outermost guy ran a slant, the inside slot ran a slant as well, and the H-back, the innermost receiver, ran to the flat.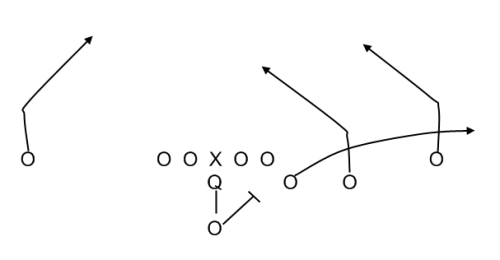 This leads to the other aspect of the play, the wrinkle that helped it succeed: The motion by the H-back/tight-end before the snap. He began on the left side of the formation and motioned across. Why was this relevant? Watch the clip above again. What did Michigan State do? A single defender followed the H-back across — a clear indicator that the defense was in man coverage. Knowing this, Stanzi knew that his backside receiver was one-on-one, and he went to him.
But what if they hadn't reacted this way? Had Michigan State, rather than having a man follow the H-back instead "bumped across" so that a defender on the offense's left merely repositioned slightly to account for the new receiver, this would have indicated that the play was zone. And unless the zone was very unbalanced to the single receiver, Stanzi would have no doubt looked to the three receiver side as a kind of flood for the zone. His read would have been the flat defender: if he widened for the tight-end in the flat, the slant should be open; if he hangs back then the tight-end ought to be open in the flat.
So Iowa won the game using one of the most basic plays in football, but they didn't do it without a bit of knowledge about what they were getting into. Now, it bears noting that modern defenses can disguise their man or zone reactions to motion, but it remains a useful tool. It certainly was that for Iowa.
(H/t Brophy for the video.)