Last weekend, Drew Brees lofted a pass to a wide open Devery Henderson for a 40-yard touchdown. In doing so, Brees broke the longstanding record of Hall of Fame quarterback Johnny Unitas by throwing a touchdown pass in his 48th straight game. That it came on a long bomb — and in a win — made it all the more perfect. You can see the play below (h/t Ty):
When I saw the play, at first I wasn't exactly sure of the concept. Clearly Henderson was on some sort of double-move, while the inside receiver hooked up at around twelve yards. Well, the Pro Football Hall of Fame itself revealed the mystery, by tweeting out some mementos of the throw, among them a diagram of the play: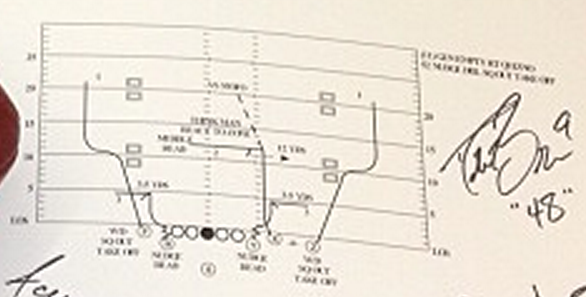 And all is revealed. It's really just the simple old west coast offense double speed-outs concept, with the inside receiver on a middle read — had the Chargers been in split-safety coverage, he would've run a post route down the middle. The wrinkles were the Saints use of an empty set (but with the inside receivers still check-releasing their protection responsibility before releasing into the pattern), the bunched or compressed sets by the wide receiver, and that the outside receivers ran out-and-ups instead of merely out routes. All in all, good stuff; certainly good enough to break a record.