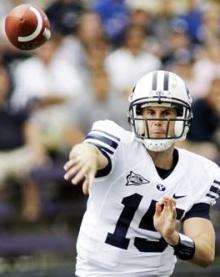 A result as surprising and significant as BYU's 14-13 upset of the Oklahoma Sooners does not come without storylines: Sam Bradford was knocked out of the game and all-star tight-end Jermaine Gresham did not play, and OU could only manage 13 points; BYU's defense forced a field goal through a goal-line stand; and BYU overcame four turnovers (to only two by OU) to win the game in the waning minutes. All these were critical, but it is also clear that BYU could not have won the game without the efficient and calm (if not always smooth) performance from quarterback Max Hall, who threw for 329 yards and two touchdowns on 26 for 38 passing.
The performance was notable for the precise way Hall moved the Cougars up and down the field. If not for the turnovers (particularly the fumble before the half near the goal line), BYU could have potentially iced the game sooner. And, other than the two interceptions (both of which were not great), Hall did a wonderful job standing in against OU's pressure-based defense and finding his open receivers. Other than a couple of plays, it was a game of steady completions, not long gains.
What is old is new. When Bronco Mendenhall took the job in Provo, he hired Robert Anae to coordinate his offense. Anae had up until then been the offensive line and running game coach for Mike Leach at Texas Tech, and he brought with him a modified version of Leach's vaunted Airraid.  This was something of an homage to BYU years gone by, as the Airraid offense itself is a modified version of the offense LaVell Edwards and Norm Chow had run in Provo for years. Anae, who played for Edwards and Chow, has kept many of the concepts that make the offense go while dressing it up with more traditional sets — and a more traditional run game.
This experience with Leach also gave Anae some experience coaching against Bob Stoops's OU defense, which is quite deadly and can swarm an unprepared team. Indeed, Stoops is willing to go completely unsound in his zone-blitzes; in the National Championship game against Florida, one of Tebow's interceptions came on a play where the Sooners blitzed six guys and played an inadequate zone coverage. While there are holes in the zone, Stoops figures that it is not easy for the quarterback to identify these while multiple defenders are breathing down his neck — the chalkboard is one thing but the game is another. Thus the onus would be on Hall — and BYU's line and runningbacks — to protect long enough to find the open receivers.
One concept common to both Leach and Anae's offenses is called "Y-sail." The basic idea is to run one man vertical, another on a 10-15 yard out, and another in the flat, to "high-low" read the defense. Check the link here from Trojan Football Analysis with a diagram and video from TTech.
Adjusting to win. But the value of all plays comes in their adjustments, and the most common adjustment for the Y-sail play is to tag the play with an "angle." With this adjustment the receiver who normally goes to the flat begins like he is doing just that, but then he reverses field and "angles" back inside on a slant-type route. The reason this works is that the "sail" or "out route" typically pulls a defender upfield; the "angle" receiver runs right underneath him.
This is what BYU hoped would happen when they called the play in the first half. Yet Stoops threw them a twist: he called a six-man zone blitz with an unsound coverage, with only two underneath defenders. In fact, he blitzed a cornerback and a linebacker from the short side of the field — could Hall get the ball off? Keep in mind that while Stoops's coverage was unsound, it is not irrational. In these situations what he and Brent Venables, his defensive coordinator, like to do is have their defenders play a bit of a "man-to-man" technique. This way the quarterback can't just throw an immediate pass into a zone void because the defender is playing almost like man. In this way there is not much of a difference between defenses that are man or zone; it is merely aggressive. The outcome of the play is diagrammed below: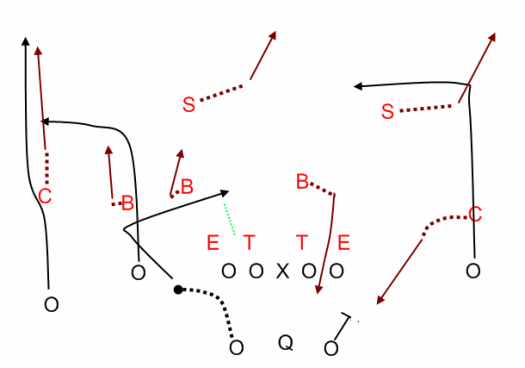 As the video below shows, the receiver running the angle beat the man over him, while the line and runningback did an excellent job picking up the blitz. A quick accurate throw by Hall, and a big play for BYU. (I will note that there is an alternate interpretation of OU's defense on this play, and that is that it was a rotate into Cover 1 man with the blitz. I think the play of the cornerbacks belies that conclusion, but it is evident that the Sooners played some kind of zone with man principles.)
This is only one play, but it was Hall's ability to continually, with only a few exceptions, pick apart Oklahoma's aggressive defense that put his team in position to succeed. Without the turnovers the Cougars might have had 21, 24, 28, or even more points, but, regardless, they scored enough. Mendenhall just hopes that Anae and Max Hall can keep it up long enough to get BYU into a BCS game.