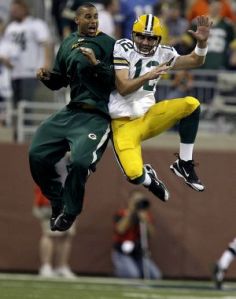 Spread offense aficionados rejoice — who needs blockers? From the Green Bay Press-Gazette:
With a couple of days to think about what went wrong in Sunday's 31-24 loss to the Cincinnati Bengals — a game in which Rodgers was sacked six times and hit 10 times despite a game plan that relied heavily on six- and seven-man protections — Rodgers on Wednesday said the best thing might be for coach Mike McCarthy and offensive coordinator Joe Philbin to let the front five on the offensive line fend for themselves.

"I think one of the things that happened last week was because of struggles (in protection) in Week 1, we've kept more guys in (to block)," Rodgers said. "Our backs were staying in a little bit longer, and so our stuff was all down the field because we didn't have any of our check downs out.

"The push, hopefully, this is week is, 'Hey you guys got to hold up up front.' We need more options underneath the coverage. When they're dropping off so far, you need some check downs."

It might seem counterintuitive that the guy who's been getting killed — 10 sacks and 19 hits in two games — wants less protection, but the logic is that by keeping in running backs and tight ends less often, Rodgers will have more options to get the ball out quicker if he's facing pressure. Against the Bengals, many of his throws were deep because there were so few short options.

Rodgers' theory might not be so far-fetched. McCarthy and Philbin have admitted in the days following the Bengals' game that they may have given the line too much help.
Note too that you can have different types of pass protection — i.e. "slide" (also known as "gap") protection or man (also known as "BOB," big on big, back on backer). Slide protection is a little sturdier — the line, tight-ends, and/or runningbacks are each responsible for a gap, and just step that direction and zone or "area block" all stunts and twists, but man-protection, when done correctly, allows the line to just block the obvious rushers while the runningback can "check-release" a linebacker or safety and release into the pattern if no one rushes. Defenses have countermoves too, but in that way you can both max-protect and get five into the route if the defense only rushes four.
Finally, there are pass protections that use both schemes; many teams' six-man protection scheme "man blocks" one side while "zones" the other:
It's not clear what kind of pass protection schemes the Packers were using, but expect more variety this week.