Nick Saban did the full ESPN car wash today, and ESPN, to their credit, fit in a brief bit of actual football talk as they looked at three plays from the BCS Championship game against Notre Dame. The segment is definitely worth watching:
Although there was good information here, the segment was also a bit rushed and the hosts didn't do much to get Saban to more clearly explain some of his technical football jargon. So let's do that right now.
Eddie Lacy's Run. This is the most jumbled presentation as they appeared to want to be able to freeze the footage and were unable to, but Saban still gives some insight: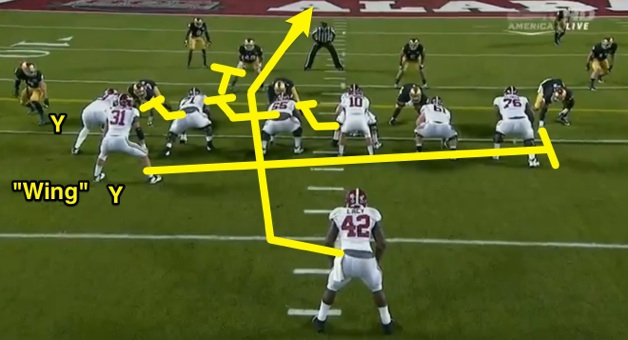 Saban: "You picked one of our basic plays, which is a zone play." — Translation: The play is inside zone to the left, which is one of Alabama's bread and butter plays. I've written about the inside zone extensively and Don Kausler had a very good story on this very play before the BCS title game.
S: "We're in an overloaded Y-Y Wing type situation here." — Translation: The formation has two tight-end type players, or "Y" players," to the same side, which can also be referred to as a a "tight-wing" formation. Remember, Saban is a defensive coach so even when he describes his own team's offensive concepts, he's often thinking about them in terms defensive coaches use. Here he ends up using three different descriptions ("Y-Y", "wing" and "overload") to describe the same idea: a tight-end with another tight-end or "wing" player to the same side, which presents an "overload" formation which the defense must react to.
S: "[It's] a zone cut play where 31 is going to go back." — Translation: It's very common on zone running plays to leave the backside defensive end unblocked — teams used to control him with the threat of a bootleg, but nowadays many do it with the zone read — but it's also common to simply bring another offensive player to the backside to block that defender. The primary purpose is to seal that backside defender to help create a cutback lane, but it also gives a traditional zone play a bit of a misdirection element. Here 31 refers to tight-end Kelly Johnson, who acts as the "block back" player, also known as the "sealer" or "kicker".
S: "Now we point out the MAC… Eddie Lacy does a fantastic job of pressing downhill and making a zone cut… we're stretching the guard area…." — Translation: The video can't be paused and Saban ends up saying three non-sequiturs and isn't really able to finish his thoughts, but there's still real football here. "Pointing out the MAC," which is another term for the middle linebacker, is something most zone teams do before every snap. The reason is that once the middle linebacker has been identified, all of them linemen will know who they are responsible for, both for defensive linemen and linebackers, typically through a "count" method which counts out from the nose guard or middle linebacker out.