Joe Paterno, on the recruiting trail: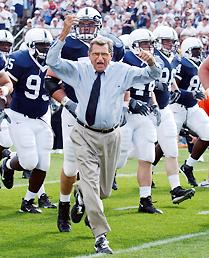 In 2007, Penn State coach Joe Paterno watched on TV as Drew Astorino hit the game-winner for Edinboro (Pa.) General McLane High in the Class AAA state hoop final. A few months before, Astorino scored the winning touchdown in the AAA football final. Astorino, who doesn't run a 4.3, had one offer (Kent State) before Paterno called. Astorino "made plays in the clutch, so we took him," Paterno told the Philadelphia Daily News. The 5-foot-10, 193-pound redshirt sophomore is starting at free safety. That's recruiting, old-school.
The fact that this was the grizzled Paterno makes this story even better. (Hat tip: Blutarsky.)
– Residual Prolixity reviews Clay Travis's Dixieland Delight: A Football Season on the Road in the Southeastern Conference. The review ends:
The enjoyable romp both hurts and helps Travis here — helping, because an enjoyable romp is never really out of style, and hurts because there's really nothing to learn from reading Dixieland. I suppose the best thing I can say is I enjoyed reading Dixieland Delight, never thought about not finishing it, and don't regret the money I spent acquiring it.
– The Pro-Football Reference Blog Revisits Aaron Rodgers and the Curse of Jeff Tedford. Bit here:
As for the whole Tedford hysteria, it was overblown, even at the time. (And since I'm pointing out old articles discussing a Tedford curse and other such voodoo, I should also point out that Jeffrey Chadiha wrote a more reasoned piece at the time.) I mean, Tedford got credit/blame for BOTH Carr and Harrington in 2002? What, was he dating one while seeing the other on the side? It seems to me like there was a lot of "Norv Turner produces great running backs" hype going on here, where there are some truths, some half-truths, and some circumstantial stuff. So I cross-referenced Tedford's actual coaching career with the "Tedford Five".