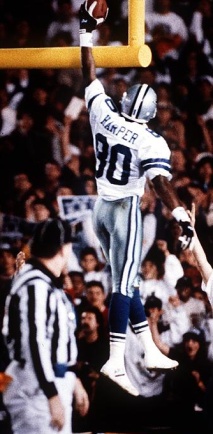 I received an intriguing email from reader Sean Piccola:
I'm an ASU fan who was subjected to [Georgia's] AJ Green's block of ASU's potential game winning field goal last Saturday. Given Green's insane height and athleticism, it got me thinking . . . if Green is 6'4 with a vertical of 30″ (or Julio Jones who is also 6'4 and has a 38.6″ vertical), why not put him under the goal post on long field goals and have him attempt to block it at the end of the kick, rather than the beginning?

Do you ever recall a time when a defensive team, when facing a long field goal, has ever placed an athlete of that caliber at the back of the end zone, in front of the goal posts, and instructed him to try to block the
kick (not return it a'la Antonio Cromartie) — it seems that numerous FGs around 50 yards just make it over the crossbar, and if nothing else it would get in the kicker's head.

I looked through the NCAA rule book online and it didn't seem to contain anything that would prohibit the practice; a field goal is just another "scrimmage kick." Obviously, this tactic would not have frequent
application, but it could prove huge at critical points in a game.
I don't think I've ever seen this done in a game. And I have seen a number of long distance, late-in-the-half type kicks that just barely scooted over the crossbars. Then again, this might be an incredibly difficult thing to do in a game, and also difficult to even simulate in practice. (Whereas a kick return of a short field goal is more or less just like returning a kickoff or punt.)
But I don't know, maybe it'd be worth a shot? The guy could either return it if it was short, or block it if he could. Any thoughts?
Update: Mystery solved: doing this would be illegal, except in the rare instance where the defender catches the ball cleanly. Thanks to commenter Chris (not me) for pointing this out. The rules can be found on pages 243-44 here. The applicable rules are as follows. Note the penalties range from a safety against the defending team (or upholding of a touchdown if the kicking team recovers it in the end zone) to simply a first down and yardage for the offense. Probably too risky. Note also these rules don't seem to apply if the kick falls short of the crossbars without interference — i.e. the Antonio Cromartie stuff. (more…)