In my most recent post for Dr Saturday I discussed some of Florida's struggles on offense. The particular topic was some of Florida's struggles in pass protection in all phases: accounting for potential rushers, sustaining the blocks, the receivers getting open on time, and the quarterback delivering the ball on time. In the post I showed what went wrong on the play, as the video below shows.
But it's much easier to show what went wrong than it is to answer: What would you have done differently? Specifically, let's say you are the OC who can signal a play in or you are the quarterback with a menu of checks and calls at the line. Your squad lines up in five wide, on third and goal (your team is leading), and the other team is showing a man blitz. Here's what you see (the receivers are all covered down by guys showing man-to-man).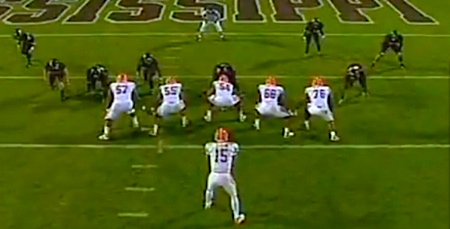 You know they have at least a possible six guys to blitz against your five, if not more if they don't cover down on one of the slots at the snap. Below is a diagram of the play Florida had called — a double smash concept. Note that the rule for the outside receiver's in man is to convert the route to some kind of pivot route to the outside.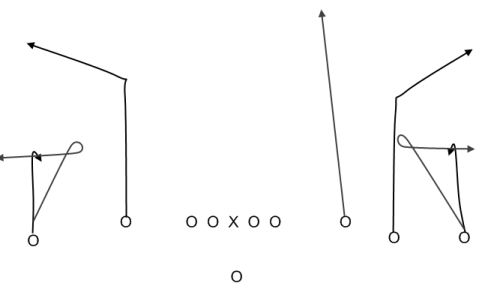 So what do you do here? Here is a non-exhaustive list of options. You make the call.
Stick with the play as called. Although they have one more guy than you can block, your other guys should protect well, the QB should step up in the pocket, and throw the corner route (or another route) before the blitzer gets there. It was an execution problem.
Call timeout. You can't block all their guys, and have a bad playcall. Try again.
Check to a short, three-step pass. Yes it is third and goal but better to throw a short completion with a chance to run it into the end zone.
Check to a three step fade pass. You need to throw it into the end zone but don't have time for any other play that gets it into the end zone.
No need for a check, but the play should have a "sight-adjust" built in, where if the QB and receivers both read blitz they break off their route for a slant. Yes this read can get muddied against zone blitzes, but this is the right situation for it. Everyone should read this on the fly.
Check the play to a receiver screen. Same philosophy as the short pass — get it to an athlete with some room to run, though this time with some blockers.
Check to a quarterback trap or draw. You have an excellent runner at quarterback, why not use him? Yes it is third and long but you avoid the dangerous play, and if you block the trap or draw right and their defenders are too aggressive, you might score.
Stay with the same playcall, but make a call to shift one of the split receivers in tight to be an extra blocker. Yes they can always blitz one more than you can block, but might as well put on a full six-man gap scheme and force the extra rusher to come from further away.
Shift a receiver in to act as a runningback for a more advanced run play, like the speed option or a zone read. This is basically a full audible with a change of formation and playcall. Note that the defense could adjust too, given this opportunity.
Some other option I haven't listed.
Now, no team would give their quarterback this many options at the line, but most teams give their quarterback the ability to get into at least three of these. Some (like the sight-adjust) is either built into the offense or it isn't.
So what is it? You make the call.