[The following is from noted quarterback guru Darin Slack. Check out his site and find out about his camps, materials, and the like.]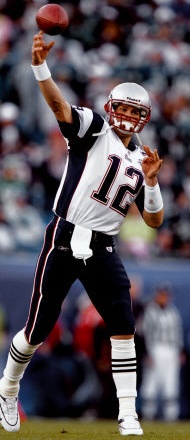 There's an old coaching adage that "you can't change a throwing motion! A quarterback either can throw or he can't. Period."
You hear this all the time, this idea that a quarterback's mechanics can't be changed. Commentators, football dads, and coaches proclaim, "It's impossible to change a quarterback's throwing motion. Just coach his footwork." Older quarterbacks in particular get subjected to this tunnel vision.
It says more about the coaches than it does the kid. The message it sends, however, is that, "We don't have time to improve a kid's throwing mechanics. Or we don't know how — we don't have the technical skills needed to coach them up. Why bother if we can just go find another kid who can already throw it better, without coaching"?
But what is passing talent? The mentality that some kids "have it" while others don't shouldn't apply to throwing in the same way it might to raw speed or quickness. Yet it comes up so often. There are many high-profile "athlete-quarterbacks" who are world-class athletes but aren't very accurate. They can throw a spiral and an accurate pass or two, but because of their latent talent the theory is that the best thing to do is just to "let them play" and the last thing you should do is "overcoach" them. The old myth comes back: Just coach their feet; ignore the upper body.
But that's only the most high-profile example. There are thousands of high school kids that receive almost no coaching of their passing mechanics. At best they get a few throwing drills. The result is thousands of young players who are given no the opportunity to develop. For the great-athlete quarterbacks, the lack of coaching puts a cap on their success and hurts their team's passing games. For the less talented kids, they simply never see the field or get moved to new positions. If they ask for help, it's that same refrain again: "Let's work on your footwork." Yet aren't the feet are the farthest appendage from where you throw a ball from? Don't you throw it with your arm?
Lack of coaching or not, the expectations remain: Perform at a high level or face criticism or the bench. The "can't coach a throwing motion" myth prejudices the careers of many young men. Not all quarterbacks make it to the NFL but all want to succeed. Ignoring the upper body is like only coaching half the kid.
Ironically, the same coaches who preach a "footwork only" gospel also throw out plenty of meaningless buzz-phrases in lieu of actual coaching: "Follow through," "Come over the top more," "Raise your elbow," "Turn your shoulders more." This double standard of non-coaching and coaching-via-cliché is confusing — for both the coach and the kid.
If all you know are the same old cliches then you're insulting your players' intelligences, and if you're insulting their intelligences then, over time, you will prove yourself to know very little. Because the stuff you're saying won't work. It might work a time or two, but you won't have all the answers, as so much of it will be guessing on your part. And once that happens the players will start just fiddling with it themselves, drawing their own ad hoc conclusions about what works best. The result is typically not pretty.
Can you improve a quarterback's throwing motion? Yes, but it's important to use the right methods. As stated above, the old way is to focus on footwork only and then sprinkle in clichés throughout practice. Our way is different. We teach quarterbacks to "self-correct, not self-destruct," through a central focus on the arm. We do this by teaching simple biomechanics concepts that are universal and non-negotiable, and yet provide powerful results that inform the footwork to support the entire process.
Here are two simple biomechanical examples to improve a throwing motion in the wrist and elbow. The wrist should be pronated, or turned over, on the release (see the images below), yet there are countless ways the wrist can move and only some are correct — the bad variations can create problems.