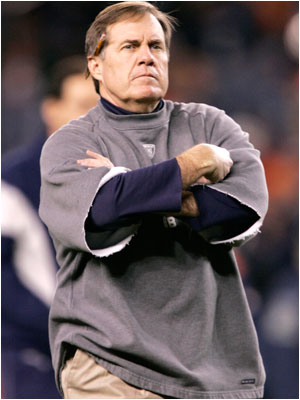 When it happened, I knew the Belichick story would be big, but I think few could have anticipated the shape or dimension of the conversation. Some of this I credit to the rise of new media: The immediate reaction to the call on NBC and ESPN was: Bad, awful, stupid call. But there was an undercurrent chorus of, "Hey, wait a minute. It actually kind of made sense." I'd like to count myself as part of that chorus, but clearly the guy who quite nearly turned the entire debate on its head was my friend and New York Times co-blogger Brian Burke, whose post on Belichick's call was cited everywhere from ESPN apparatchik Adam Shefter's twitter feed to a piece by the excellent (and decidedly mainstream) Joe Posnanski on SI.com. (I'd like to think I helped, as I linked to Brian's bit within about a half hour after the game, and my tweet of his piece was one of the most retweeted things I've ever sent.)
Credit where it is due, the interesting thing is what happened after that: A mess. Some people ossified in their views: Trent Dilfer tried to back up his bombastic criticism of Belichick, though he had more passion than arguments. Peter King said the call "smacked of I'm-smarter-than-they-are hubris," and compared Belichick to Grady Little. In the process, King messed up his math, but that was really besides the point for him. The call just didn't feel right.
Although some stats junkies went the other way and proclaimed that it would have been affirmatively stupid for Belichick to have punted, most people, when faced with the compelling statistical evidence that the odds were roughly in Belichick's favor (or at least so close as to be even with all the late game variables at play), were left in a fit of consternation. And this is why I think the decision has struck a national chord. It gets to the core of how people see themselves versus how they actually make decisions.
Most people fancy themselves as being driven by the evidence such that they will always follow it, but that's not really true. As amazing and wonderful as the human brain is, it is full of inherent biases, and information, even compelling information, that does not comport with those biases is often devalued, even on a subconcious level. (One famous experiment confronts people with radios where the speaker is discussing views contrary to or similar to those already held by the listener, but the volume is set too low to be heard well. The listeners frequently turn up the volume when the speaker is saying things they already believe; they rarely turn the volume up if the speaker is discussing the contrary views.)
And so it was with the Belichick debate. It's not that you must agree with the decision, but any reasonable person has to say, as Posnanski did, "Well, hmm, it seemed nuts at the time but I get it now, based on the evidence." As Keyes said, "When the facts change, I change my mind – what do you do, sir?" Yet many people still refuse to reconsider their view on the subject. It was wrong and no degree of evidence can change my view or even make me reconsider. Consider Colin Cowherd's admonition on SportsNation that "stats are overrated." (Though I agree that many stats are.) The upshot is that, despite our best views of ourselves, it is very difficult to actually say that we are rational creatures in practice. As Jonah Lehrer wrote:
The reason I bring up this analysis is to demonstrate that even defensible decisions can have wrenching emotional consequences. Belichick's call might have been statistically correct, but it felt horribly wrong.

. . . The point is that there's often an indefatigable gap between the rigors of cost-benefit analyses and the emotional hunches that drive our decisions. We say we want to follow the evidence, but then the evidence rubs against a bias like loss aversion, and so we make an exception. We'll follow the evidence next time.
It's not really fair to pick on Tony Dungy, who was an excellent football coach, because his excellence had nothing to do with any training in statistics or probability. But his comment that "you have to play the percentages and punt" is symptomatic of a wider issue, which is that when something "feels horribly wrong" we inherently want the evidence to comport with that feeling and we convince ourselves that it does. Dungy is a conservative guy, he likely would say that punting gives him plenty of chances to win, he's a defensive coach so he has no qualms about showing faith in his defense, and, bottom line, the idea of putting that much significance on one play just didn't sit well with him. That's all fine, but it has nothing to do with the percentages. Yet his brain and experience had told him that somehow the percentages supported it too, and thus Belichick's move was the "risky gamble."
The fourth down debate is significant (though I risk inflating its significance), because it forces you to consider how you actually tackle problems. Indeed, the entire point of probability, statistics, and science generally is to make progress in spite of, not because of or consistent with, our preconceived biases: