The shallow cross is, quite possibly, the best pass play in football: Almost any quarterback can complete it; almost any receiver can run it (though there is more nuance than maybe one might initially realize to a good shallow route); it is a way to get "speed in space" without requiring a big arm; it works against most all coverages; and throwing a few of these tends to open up big plays downfield as defenders creep up.
I've discussed lots of variants of the shallow, but one of my favorites remains Bobby Petrino's. I see Petrino's version as essentially the meshing of a pro style approach with a college sensibility; the reads are simple but there are nuances built in so that it works against almost any coverage. Petrino moves his guys around a bit, but, the key feature is that unlike the Airraid guys, he has his runningback and his shallow going to the same side: the back runs a wheel route to pull the underneath coverage to the sideline and up the sideline, while the other two receivers run a post and a square-in, and on the backside the receiver runs a comeback. The base play looks like this: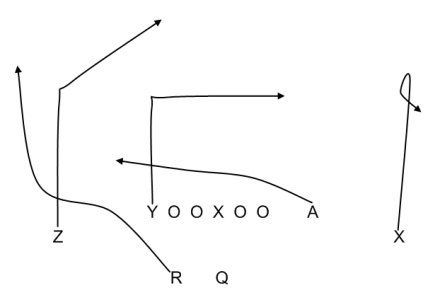 The post and the wheel are "alert" routes, in that they aren't part of the basic reads but the quarterback can look at them first if the defense gives it. The most famous example of hitting the wheel was the second play of the game last season against Alabama. Alabama came out in a quarters or split safety look, but there was some coverage bust (it's hard to say exactly but it was probably the cornerback chasing the post route all the way inside, as shown in the video below).
More typically, the goal is to hit the shallow, as the read is shallow to square-in to comeback on the backside. (Note that some people have said all routes should be read high to low, including the shallow. Although I think that's a good rule of thumb, that's all it is: the shallow needs to be the read before the square-in.) Below is a diagram and clip of the same concept, except Petrino now has the square-in/dig and the shallow coming from the same side.
Here, Arkansas runs the shallow and the wheel to the short and tight side (short side of the field and where there is only a tight-end). The corner and safety drop deep, and the advantage of running the shallow to this side is the tight alignment brings the linebackers in, and the shallow ends up able to outflank those guys.
The read is the same though: Alert (post/wheel), shallow to square-in to comeback. I've covered all of this previously, but it's worth mentioning again because don't take my word for it: Ryan Mallett explained it all to Jon Gruden recently. Jump to the 2:05 mark. (My favorite part of this is when Mallett begins discussing the hot reads and Gruden's eyes light up.)
(more…)