The speed option may be the best run play in football. The pro guys don't like it because your quarterback can be hit, but, whether under center or from the shotgun, it's an exceptionally useful play to have in your arsenal. There are three basic reasons why the play is so effective and useful:
Simple: Both the concept and the schemes are simple. Unlike the true triple options, there are not multiple reads and the one read that is there is a simple one of a defender often stuck in space.
Inexpensive. What I mean by inexpensive is that the play requires very little teaching for any offensive players as the blocking scheme should be one already used for a traditional play. Typically, this will be outside zone blocking.
Speed in space. This is tied to #1 and #2, but the play works most of all because it is a simple and inexpensive way to get athletes on the perimeter of the defense in space. The option threat by the quarterback — and the numbers advantage gained by reading a defender instead of blocking him — keeps the defense inside, but the point of the play is to pitch the ball to the runningback on the perimeter where he can burst upfield to do maximum damage.
What further makes the play so good is that these concepts are universal; they are not tethered to a single offense or system. The play works from under center or shotgun, and has been effectively used by teams with great running quarterbacks and it has been used by teams with more pedestrian quarterbacks as just a cheap way to get the ball to the outside.
In modern form, the play is simple. The line outside zone blocks, which means they step playside seeking to cut off the defense and to even reach them as they can. The linemen work together to double-team the defensive linemen before sliding off to block the linebackers, and the idea is to create a vertical crease somewhere between a spot outside the tight-end and the sideline. The offense leaves an outside guy unblocked, typically either the defensive end or the strongside linebacker. The quarterback takes the snap and runs right at the unblocked defender's outside shoulder. If the defender stays wide, the quarterback cuts up the inside crease (and typically looks to cut back against the grain). If the defender attacks the quarterback or simply stays inside, the QB pitches it. The outside receivers block the outside run support, being more focused on being in their way than pancaking anyone. Below is a modern example of the speed option from gun: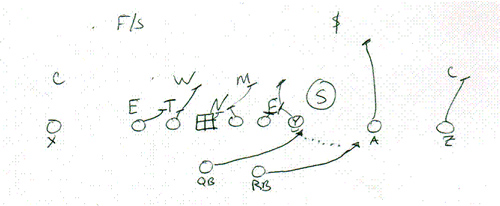 For a little more historical perspective, Tom Osborne's great Nebraska teams used the speed option as one of its chief weapons.
(more…)