I've been working for a few months on a deep-dive analysis of Gary Patterson's morphing, multifarious 4-2-5 defense for Grantland, and it's now up. Patterson's defense is intriguing on a number of levels, and not only because TCU is ranked #2 in the preseason AP polls: Patterson's 4-2-5 is custom built for the kinds of wide-open, uptempo spread offenses that now dominate football at every level, but there's a lot of nuance into exactly why that is: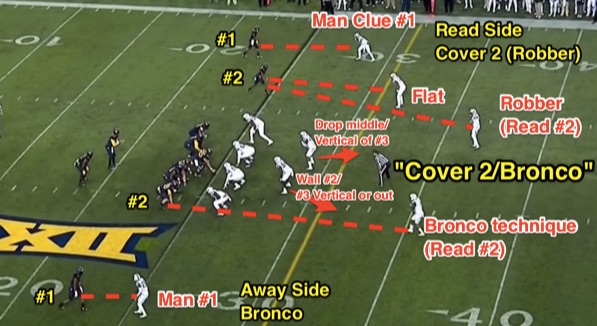 Patterson's 4-2-5, however, was designed with those challenges in mind. By playing five defensive backs, Patterson almost never needs to substitute to match up with the offense. But the system's genius runs even deeper: Patterson has cleaved the very structure of his defense into pieces, simultaneously making everything simpler for his players and more complicated for opponents.

"We divide our defense into attack groups," Patterson explained at a coaching clinic in 2011. Those attack groups are: (1) the four defensive linemen and two linebackers, referred to as the front, (2) one cornerback, the free safety, and the strong safety, and (3) the weak safety and other corner. For most teams, the calls for the front and secondary only work if appropriately paired, but that's not the case for TCU. "Our fronts and coverages have nothing to do with each other," Patterson said at the clinic. "The coverage part is separate from the front."
Read the whole thing.