Flash Boys, by Michael Lewis.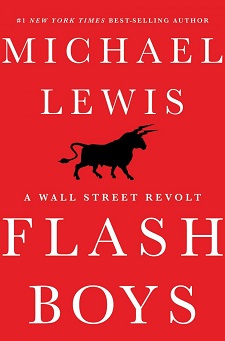 Flash Boys is Lewis's newest book — it was released on Monday, preceded by a feature story on 60 Minutes — and details how high-frequency traders are "rigging" the stock market. I, of course, bought it immediately, as Lewis's work is all essentially self-recommending. I haven't had the chance to make much progress yet, but so far, so good: it's in Lewis's typical clean, elegant prose, and covers subject matter (financial chicanery through the eyes of colorful outsiders) right in his wheelhouse. I'll put up a more extensive review once I've finished the book.
– Home Game, also by Michael Lewis, is something altogether different, and I read it last fall when I was home with our new baby. It's hard to recommend the book as the subject matter — Lewis's own unique approach to fatherhood, which mostly involves him detailing ways he feels inadequate or at least overmatched by the prospect — is quite narrow, and the book itself feels a bit like an attempt to cash in on his success as it is a collection of disparate thoughts and events, some recalled years later for his older children and others recorded in somewhat real time for his younger ones. Of course, there remain moments of insight, such as when Lewis details a father's feelings of paralysis and uselessness while his wife suffers through labor and deliver, and the book was an easy read at a time when I am still amazed I had the brainpower to read much of anything. It's a good book for expecting and recent dads, though Adam Gopnik's From Paris to the Moon covers somewhat similar territory in similar though more complete and better organized fashion.
– How Children Succeed: Grit, Curiosity, and the Hidden Power of Character, by Paul Tough. This surprisingly riveting book is about a shift in thinking about the best way to educate and prepare children for their lives, specifically a shift away from a sole focus on raw IQ — evidenced by making three year-olds do countless math problems or other pure "cognitive development" activities — to methods that, for lack of a better term, try to help them develop supporting skills like character, diligence, curiosity, and, most of all grit and determination. I'm no education expert and reading a book of competing educational studies is not how I'd like to spend my time, but Tough supports his argument with fantastic stories of real people. I was alerted to this book by this fantastic review (which contains several excerpts) of Tough's book which focuses on Elizabeth Spiegel, an inner-city chess teacher and one of Tough's heroes. But this isn't just a Hollywood style narrative; it's far more complex, and far more rewarding.