Football is bathed in jargon. Other sports have their wonky terms but anyone who even casually watches a football game is bombarded with a cascade of code words, while even experienced fans usually can't make heads or tails of what coaches and players say to each other on the sidelines. Some of this is inherent in a game made up of a few seconds of action interrupted by breaks for communication. And the phenomenon of platooning — where offensive players don't play defense and vice versa — creates additional opportunities for coaches and players to communicate, and, like any other pressure filled profession, from the armed forces to medicine, communication in these circumstances is condensed so that the most information is conveyed in the fewest syllables.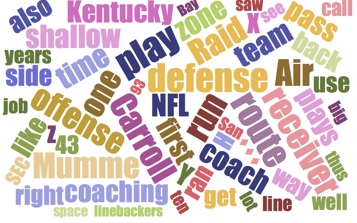 All too often, however, discussing even the most rudimentary and fundamental football concepts is needlessly offputting, something exacerbated as too many announcers and analysts use streams of buzzwords to sound intelligent without actually conveying any information (something I try very hard to not do, though undoubtedly with inconsistent success). Unless you're sitting on an NFL sideline trying to tell your position coach what the defense is doing, you are better off using as little jargon as possible and instead trying to explain what you see in English.
But in football, terminology is often destiny, and some terms have become so ingrained that being familiar with them is critical for any intelligent fan; on the other hand, others have become so misused that using them actually deters rather than enhances understanding. The goal of this football glossary is simply to unpack a limited set of football buzzwords in a way that will make watching games on Saturday and Sunday more enjoyable. The important thing, however, is not to focus on the terms but instead on the explanations: if we're all on the same page with those, the names we given the underlying ideas — whether you call it Smash, China or Shakes — what we end up calling it is simply detail, not substance. I'm sure your high school coach had his own name for each of these below.
Arm Talent: A notorious bit of scout-speak that is either a pseudo-scientific way to describe something obvious ("That quarterback has a strong, accurate arm") or an extremely clumsy way to describe something better served with colloqiual english ("He has the ability to throw the ball from different angles to avoid oncoming rushers and still find an open throwing lane through which he can deliver the football").
Bang 8 Post: A particular version of the "skinny post" or "glance" routes, the "Bang 8" or "Bang 8 Post" was developed by former San Diego Chargers head coach Don Coryell and calls for the receiver to run seven-steps straight downfield before breaking inside at an angle. The particular angle the receiver takes, however, depends on the leverage of the defender covering him: the receiver's job is to take whatever angle is necessary to ensure he is between the quarterback and the nearest defender. ("8" is the number for a post in the Coryell route tree, see "Route Tree" below.) "Bang" indicates that the route is not thrown as a deep bomb but instead is a rhythm throw thrown by the quarterback on rhythm as soon as he hit the fifth step in his dropback. Troy Aikman and Michael Irvin of the Cowboys ran the Bang 8 better than anyone in NFL history: