One of the great all-time pass concepts is the "smash" concept, which I've previously discussed at length. In the concept, the outside receiver hitches up at five yards while an inside receiver runs a ten-to-twelve yard corner route over the top. This creates a "vertical stretch" on the corner, which is particularly potent against a two-deep Cover Two defense.
The smash is probably best installed with some kind of routes on the backside that attack the middle of the field, that way to keep the safety from overplaying the corner route. Many teams, however, teach the smash to both sides as a "mirrored" concept. This is good, but the problem can come when both safeties overplay the corner route.
But there is a counter. If a team's safeties overplay the corner route on the smash, you hit them inside. You can have the outside receiver run a delay route back underneath and then upfield underneath the safety, but even better is simply to send someone unexpected into the vacated area: the runningback.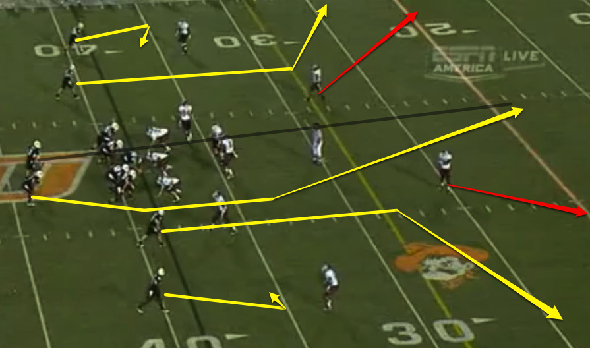 In the example, you can see Oklahoma State call this against a two-deep shell run by Texas A&M. They had overplayed the corner routes, so the variation was simple: throw it deep down the middle to the back in the vacated area. Were Texas A&M to have shown a blitz the quarterback would have checked out of the play (as there were only five protectors), but so long as they got a base two-deep look, the play was there. You can see the result in the video below, after the jump.