I recently discussed the evolution in combined or "packaged" plays, which involve combining quick passes, run plays, and screens to best take advantage of what ever evolving defenses throw at offenses. Since describing the concept, I've seen an increasing number of NFL teams use it, including the Green Bay Packers and the New York Jets, to decent if unspectacular effect.
And most interestingly, a reader pointed me to a slight wrinkle on the stick/draw combination that Oregon under Chip Kelly ran in their spring game last year: a quick pass combined with a shovel pass. See the diagram and video below (note that the diagram is not entirely accurate; I drew the "stick" concept but Oregon actually ran "spacing," which I like as a concept but like less for this purpose).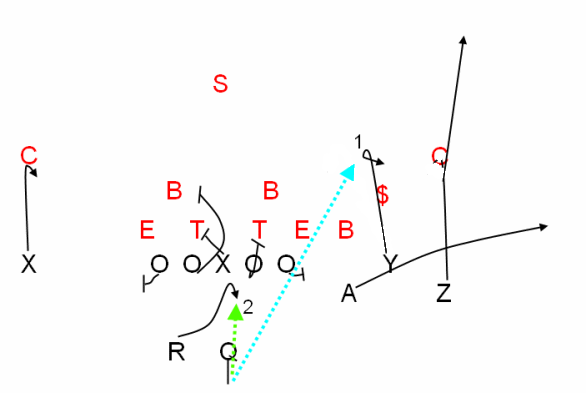 I point this out because I actually like the quick pass plus the shovel play more than I like the draw. The blocking scheme for the line remains the same: basic draw blocking, potentially with a fold technique, though you can also try to leave a defensive end unblocked if you're willing to read him. But doing it as a shovel pass over the draw has a number of advantages, I think.