This article is by my friend Dan Gonzalez, who, in addition to being an expert on offense and the passing game, has written a book about both called Concept Passing: Teaching the Modern Passing Game. Dan also previously collaborated with me on an article about the four verticals pass concept. I am honored to host his excellent article on Smart Football.
"Pick a side." This common coaching directive, in which the quarterback is given the autonomy to choose his starting point on a pass play, has always bothered me. It's an abdication of a coach's responsibility: It's the coach's job to orchestrate the assault on a defense –- why isn't the quarterback given a specific starting point and a full complement of options? Even as a college player, I would sit in meetings or pick up a game plan handout and roll my eyes when I saw these words attached to a pass play. My coaches were no slouches – there was an NFL pedigree throughout the staff, and they were fresh from coaching the first pick in the NFL draft when they came to my school. We were taught sound mechanics and fundamentals and our system was a complex pro-style system. Still, there was an abundance of mirrored pass patterns (see Diagram 1 below) in our system, where receivers on both sides of the formation ran the same routes. While these plays were sold as attacking the full field, I often thought to myself, "If everyone comes open at the same time, aren't we really wasting half the field, and sometimes more than half of the eligible receivers?"
Diagram 1. Example of a "mirrored" pass pattern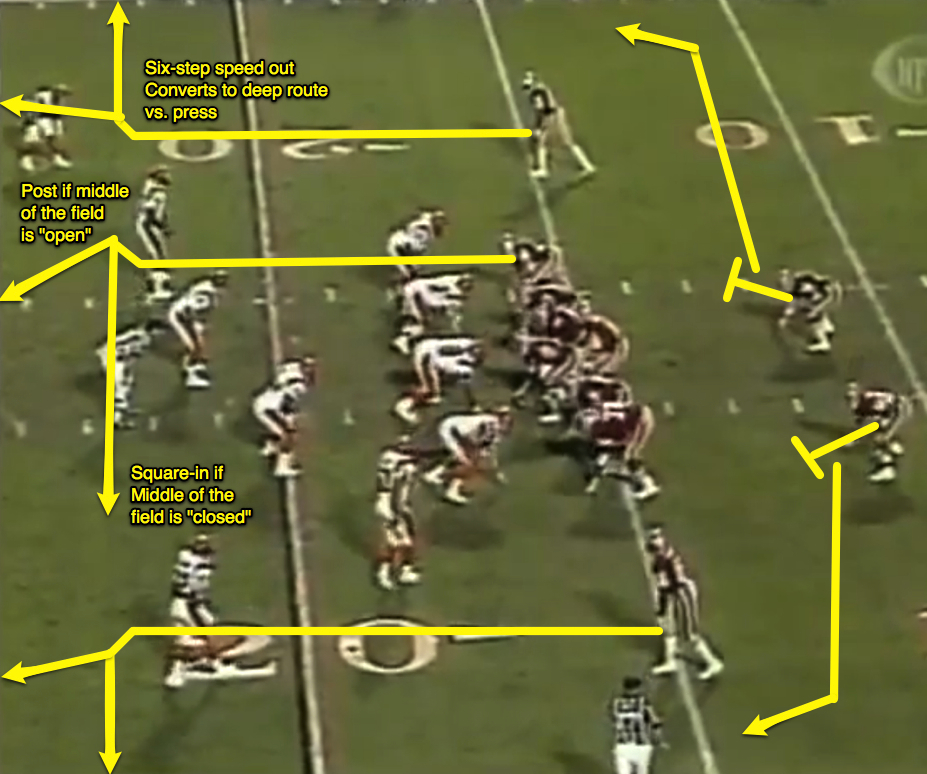 I have always considered myself a sort of "free thinker" when it came to football. My talent would never have allowed for me to dream of playing after college (I considered myself blessed to be there), and I always knew I would go into coaching. When I studied our game tapes (I was in charge of the passing game quality control as a senior) and opponent scouting tapes, I was not only living in the "now" — I was also searching for the methodology that I would use when I finally got to run my own offense. Even then, there were two things I knew I wanted: (1) My system would establish itself with the dropback pass and (2) I was going to give the quarterback as many options as possible on a given pass play.
In the passing system I have coached myself (and have since installed for my clients on a consultant basis), pass plays have "frontside" and "backside" component. They fit together through a system of pattern variations, or "tags," which I've created to give the quarterback a well defined method of attacking the full width and depth of pass defenses. There are three types of backside tags, each encompassing a specific way to affect the backside of a pass defense:
Provide outlets if the primary combination is covered.
Control safety rotation or displacement.
Prevent "matching" of the undercoverage.
For this article, I'm going to share a little of the thinking that goes into the first category of backside tags that we teach –- in our vernacular, these combinations are called "Scan Reads."