Oklahoma didn't have a great showing versus Notre Dame, but they did show one cool play: a fake screen and downfield pass, complete with pulling lineman in the fourth quarter, which directly led to an Oklahoma score that tied the game up at 13-13 (after which the wheels promptly fell off for OU).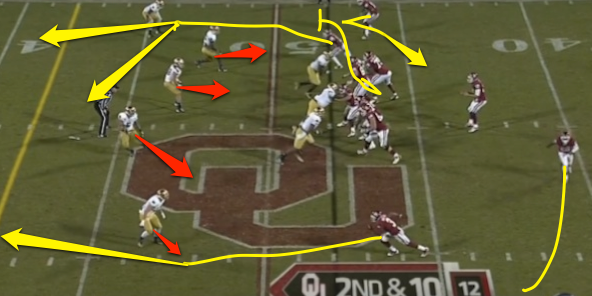 On the play, Oklahoma lined up in a four wide set, and sent the runningback in motion to the left, to draw attention from the defense. You can see Manti T'eo heading that way just after the snap. The outside receiver to the right runs his screen path: two steps up, retrace your steps down the stem and back to the quarterback. Meanwhile the right guard also does his screen action: pass set and then release flat down the line of scrimmage. The rest of the linemen, however, pass protect (Notre Dame did not show a blitz, and if they did it would have made some sense for OU to check out of the play), and the other three receivers release downfield.
The outside receiver to the screen side, Jalen Saunders, releases outside as if he is blocking the screen, then runs straight downfield. Once he hits a depth of 8-12 yards he can adjust his route. If the defense is totally faked out with no safety in the picture, he'd just continue down the seam. As it was, the safety was still over the top, so he flattened his route into more of a post or dig, and caught the ball behind the fooled linebackers for a big catch and run. (Go to 1:44:10 if it doesn't load there automatically.)
This is not the first time I've seen this specific play, nor this breed of fake-screen combined with a downfield route. I saw Houston, under Kevin Sumlin back in 2009, run this exact play. In that play, the defense was so fooled the receiver simply kept his route vertical for a touchdown, whereas Saunders flattened it under the safety in this example.