College football's bowl season is not much like the single-minded narrative of a one winner-take-all playoff. Instead it's a shifting, multiple layered story told through an ensemble cast. Some of the stories, like the BCS title game, are triumphant, with maybe even a tinge of poetic folklore — some battle that could as easily be taking place on Mount Olympus as in New Orleans or Pasadena. But other bowls are decidedly middle American, where hope and expectation have been dulled into some more reasonable expectation of just a simple win, maybe a winning season; more Death of a Salesman than Greek myth.
But it's often the smaller story that carries the most drama.
The Russell Athletic Bowl pits a Virginia Tech team — a consensus preseason top 20 team — that limped its way through the season and had to win its final two games to even get to a bowl games, versus a Rutgers squad that began the year 7-0 but finished 9-3, partially undone by mistakes and inconsistency on offense (yet still having had a good year, overall). The game should be close — Virginia Tech is a slight two-point or so favorite — and both defenses ought to deliver solid performances, something often lacking during bowl season as more teams move to no-huddle spread attacks.
On offense, however, it's a bit of a different story. Virginia Tech had high hopes for its offense, led by quarterback Logan Thomas, but the Hokies offense — and Thomas in particular — has been a big disappointment. Virginia Tech's offense has never been known for being explosive, but their average yards per play fell by roughly half a yard, while their turnover margin swung from positive to negative. But despite those struggles I think the game will be won or lost on the other side of the ball, in the matchup between Rutgers' offense and Virginia Tech's defense.
Rutgers coach Kyle Flood was promoted from offensive line to head coach following Greg Schiano's departure to the NFL, and Flood, a no non-sense kind of guy, clearly wants the foundation of his team to be his offensive line and especially his running game. Much of this is by attitude, but it's also by necessity, as quarterback Gary Nova has been nothing if not inconsistent. Against Temple, Nova completed 63% of his passes and threw for four touchdowns but — one week later, a game I attended in person — he threw a season high 46 times and six interceptions against Kent State, the Scarlet Knights' first loss of the season.
But the problem for Rutgers wasn't just Nova's inconsistency, it was that teams began to be able to take away their running games. Flood's offense is designed to be essentially a pro-style system; if you go just by formations and a superficial look at plays, the college team they most resemble on offense is Alabama. And the foundation of their attack is nothing fancy: the outside zone play, complete with a tight-end and a fullback.
It's a play that Flood has lectured on at coaching clinics for years and, when Rutgers' offense is rolling, you'll see lots and lots of outside zone.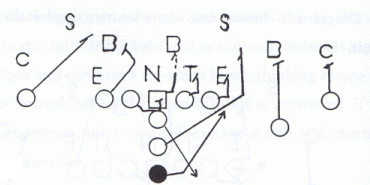 Rutgers runs it the same way most NFL teams do, which is essentially the same way the old school Nebraska teams used to run it under Tom Osborne (the diagram above is from Milt Tenopir, Nebraska' legendary offensive line coach). There are three keys to Flood's outside zone:
The runningback's read;
The technique of the "uncovered lineman"; and
Where the fullback "inserts" into the defense.