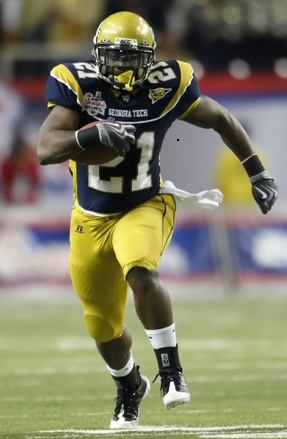 Fits and starts. Georgia Tech's offense is, by most statistical measures, beating its marks from last season. In '08 the Jackets averaged roughly 370 yards of offense, while this year they are second in the ACC with over 400 total yards per game. Scoring is up by over six points a game too, up from 24 to roughly 30. But the perception is that Paul Johnson's vaunted flexbone offense is not doing so hot. Indeed, the perception vs. reality debate centers on Jonathan Dwyer, who, if you ask most fans (or see the emails I get), is having a disappointing year despite being third in the ACC in rushing yards per game.
There's definitely some truth to the idea that Johnson's offense has not been crisp. Exhibit A were the nationally televised games against Miami, where the Jackets fell behind and could not get the offense going, and Clemson, where a strong first quarter and gutsy fourth bracketed two quarters of very little production. And Dwyer's 400+ yards rushing this year are muddied by his 66 yards against Clemson and seven against Miami. So what is the prognosis?
I talked to a few flexbone experts and the thoughts were these. The first let's just get out of the way: Johnson is still using Chan Gailey's players, and doesn't yet have its own. I don't want to harp on this but I am sure there is at least some truth to it. The line in particular was disappointing against Clemson and Miami, and Johnson will ultimately be judged when he gets a full roster there. But that doesn't much help us in the here and now.
Second, and most interesting, is that there is sentiment that Johnson doesn't totally trust his quarterback and is predetermining more reads than we might think. I don't think that is as surprising as it sounds. Johnson said in clinic talks over the summer that he predetermined a lot of the reads last year, and there is some precedent for this: Tom Osborne said in the Nebraska heyday up to 70-80% of the reads in a given game might be predetermined by the call. I'm an option purist, and moreover from a viewing perspective I can't always tell if a play was a bad read or a predetermined one. But that would help explain some of the stunted dives to Dwyer that have not seemed to go anywhere at times this year. (But don't ask Mississippi State or North Carolina.)
Finally, there have been some changes in defensive tactics. Most notably almost everyone is playing Georgia Tech with a nose-guard to help stop the midline option and to either stop Dwyer up the middle or at least muddy that read. Miami in particularly played their base defense but simply moved one defensive tackle over to nose guard. This isn't an end-all be-all scheme, as it has opened up some outside lanes and various counter plays, but GT has not always executed those plays well. Rewatching the Clemson and Miami games in particular one is struck by the fact that there are big plays to the outside to be had, but the Jackets just keep missing key blocks. Now credit both Clemson and Miami for fending off the myriad chop cut blocks and making tackles, but if Johnson wants to continue having success they will have to make teams pay for crowding the middle, and the passing game can only go so far.
The demise of Johnson's scheme has been premature, though, like any other squad, it comes down to execution and GT will have to prove that its success will continue. The Jackets face a reeling Florida State squad this weekend, followed by a streaking Virginia Tech team. We'll learn a lot about PJ's boys in the next two weeks.
Paul Johnson bonus. Below are highlights from the 1992 Holiday Bowl, where Hawai'i, with Johnson as offensive coordinator, defeated Illinois.