Charlie Weis, he of the "decided schematic advantage," is back coaching an offense in college football, this time with Florida. Spencer Hall does a good job explaining Weis's offense and what Gator fans might expect — or at least as good of an explanation as is possible considering the contradictions: Weis considers himself pro-style, yet once tried to unveil a spread option look to start a season before promptly abandoning it; at Notre Dame his offense's achilles heel was his teams' inability to run the ball, and yet when he went back to the NFL his team lead the league in rushing. As Spencer says:
The pattern is that there is no pattern, run/pass-wise, and that he seems genuinely happy to adjust to the tools he has on hand.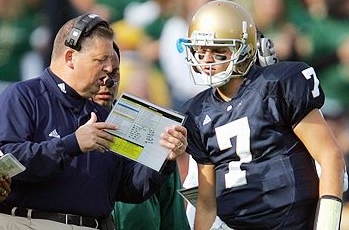 I think that's right. I expect Charlie's offense at Florida to actually be less of the go-for-broke-let's-hit-the-home-run fest it became under Clausen. At that stage it had become so erratic that either Clausen, Tate, and Floyd shredded you for big plays or they failed to connect, often in critical situations — it had a Madden-esque feel to it by the end. The year with the Chiefs was likely good for Charlie in that with an average NFL quarterback, only a few outside playmakers and good runningbacks, he had to turn to the run game.
And in the NFL, you don't make the run game better by adding option plays or doing anything too exotic like the college guys. Instead, you find as many ways as you can to run the inside and outside zones. And Charlie's big wrinkle with the Chiefs was the same one that a lot of NFL teams adopted: the unbalanced line, or simply an extra offensive lineman. The Chiefs did this, the Ravens did it, and even Stanford, under Jim Harbaugh, often did it too. The reason why you do it, particularly on zone runs when the quarterback is not a threat, is obvious: create more gaps to run through and for the defense to worry about. Compare this lineup with Michigan (note that I'd just throw it to the slot receiver here):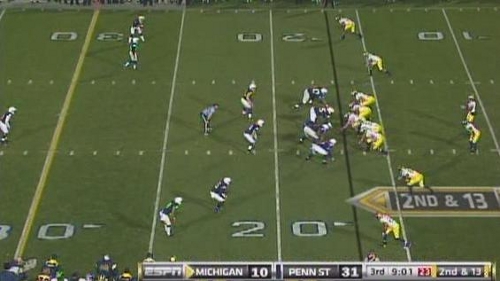 With this (I've highlighted the extra lineman and one of the gaps created by having two tackles to that side):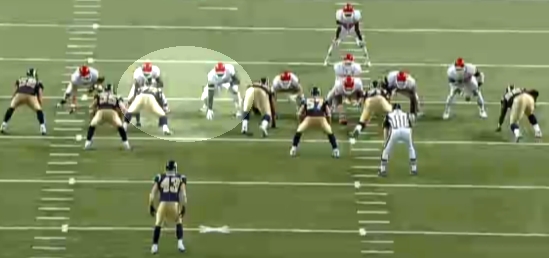 The whole point of zone running is to block the defenders in those zones and to create vertical running lanes; creating the extra gaps should help create additional running lanes. In this instance, it worked brilliantly for Charlie (and it helps having Jamaal Charles). Indeed, I think this is the wildcat offense's lasting legacy for NFL coaches — more about unbalanced lines and playing with gaps than having a quarterback who can run.
When it comes to throwing the ball, I expect Charlie's offense to look much like it did at Notre Dame, though, at least in the early days, there will likely be more of an emphasis on screen passes than downfield shots. But when he does throw downfield, you can expect to see the old favorites: quick slants, stick concepts, deep "go" routes, and the deep cross. Indeed, the deep cross was a feature play of his both at Notre Dame (see the second clip in the video below)…
And a favorite with the Chiefs, as shown in this video.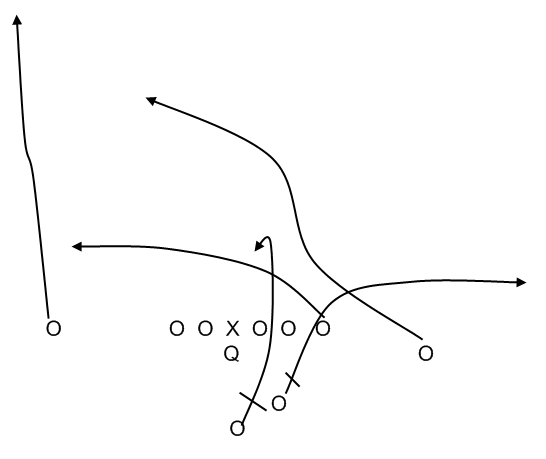 Ultimately, I don't expect Charlie to be in Florida for long, but that doesn't mean he won't leave his mark — a positive one. He'll likely be there no more than two years, maybe three, before he leaves to become a college head coach again (yes) or another NFL spot. Charlie will only be able to handle working under someone else for so long. But I think the Muschamp-Weis situation will be fine: Will will defer to Charlie on the offensive side and he'll provide an impressive sounding board (more on that in a moment), and Charlie will genuinely enjoy just getting to focus on creating gameplans, coaching quarterbacks, and calling plays. In the long run (and assuming he has a lot of success at Florida), Muschamp will probably end up with a coordinator whose roots are in the college game with college players, much like the guys Bob Stoops has worked with over the years. But Will undoubtedly wanted real-deal-NFL-guy to both be there as a recruiting pitch and for his own psyche — long-term NFL experience is one thing his mentor Nick Saban has that he does not (Muschamp spent one year with the Dolphins under Saban).
And Weis will be a great resource. He is generally known as an NFL "pro-style" guy all the way, but it's often forgotten that, back in the 1980s, Weis spent the decade shuffling between high school and college programs, where he ran a variety of offenses, some of them quite surprising. From a post-game interview with Weis from 2005:
Q: Coach, after watching Saturday, this question begs to be asked: Did your career path ever intersect with Mouse Davis?

WEIS: I did visit with Mouse Davis back in South Carolina when we had the run and shoot. We talked to Mouse Davis, we talked to John Jenkins not Father John Jenkins, by the way Mouse Davis, John Jenkins, those run and shoot guys. Yes, we went from the veer to the run and shoot at South Carolina. We spent some time with all of those run and shoot guys.

Q: Was influences of that evident on Saturday?

WEIS: No. What you saw Saturday [ND did a lot of 5 wide stuff and quick three step passes], first of all, run and shoot always has a back in the backfield. It's either a two by two or three by one, which trips are spread; okay, that's number one. And you always have a run element, so empty (backfield) really doesn't come into play.
This brief excerpt of his own words is the best summary of Weis that can be given: irascible, somewhat condescending, and incredibly knowledgeable.