The hallmark of Joe Gibbs's Washington teams of the 1980s and 1990s was the Counter Trey or Counter Gap play, which featured the backside guard and backside tackle (two members of the Hogs) pulling to lead the way for John Riggins and Washington's other powerful backs. The play became synonymous with Gibbs and Washington, and many credit his success with it as the reason why it is so ubiquitous in football today.
But Gibbs didn't think of the play on his own. "We stole it," Gibbs told Sports Illustrated. "We saw some film on Nebraska, and Tom Osborne was doing some really innovative things with his line up front. We were watching it and thought, God, that's good stuff. So we stole it."
There is, of course, nothing wrong with this: You can't patent a football play, and once it's on film it's there for the world to see — and for other coaches to copy. And arguably no coach over the last two seasons has been better at strategically "stealing" plays than Alabama offensive coordinator Lane Kiffin. Kiffin has a history of being flexible with offense, as while an assistant at Southern Cal under Pete Carroll and offensive coordinator Norm Chow, Kiffin spent a lot of time at Tampa Bay's facilities where his father was the defensive coordinator and Jon Gruden was the head coach, where he picked Gruden's brain and studied hours of film on Gruden's West Coast Offense. Many of those concepts eventually made their way into USC's attack. And one of the reasons Nick Saban hired Kiffin was because he wanted someone who could bring a true pro-style approach to Alabama's offense while also modernizing it, as Saban had seen first hand how quickly offensive football was changing. Kiffin has largely succeeded on both fronts.
But Alabama's win over Michigan State in the Cotton Bowl was one of Kiffin's best games, as he first loosened up Michigan State's excellent defense with short passes, packaged plays and screens, before surgically dismantling it (while Alabama's defense completely suffocated MSU's offense). And several of the key plays for Alabama were ones Kiffin had borrowed from film study. From The Wall Street Journal:
[H]ere's the most notable thing about those two Alabama plays: They weren't actually Alabama's.

Chris B. Brown, a corporate lawyer who writes about strategy for his website Smart Football, was watching the game the next morning, unable to stay up on New Year's Eve with two young children, when he noticed something unusual. Alabama had recycled the same plays that had worked for Baylor and Oregon in their recent games against Michigan State.

The first Alabama deep ball was a ripoff of a Baylor play that went for a touchdown against Michigan State in the very same bowl game and stadium last season. The second Ridley bomb was right out of Chip Kelly's old playbook at Oregon.

Alabama coach Nick Saban and offensive coordinator Lane Kiffin have a history of borrowing plays. Brown remembered Alabama scoring against Wisconsin this season on a run that Ohio State used to run all over Oregon in last season's national championship. But they're at their most brazen in bowl games, because that's when they can add a few wrinkles that might work against only one opponent.

"They have done a good job of pulling ideas from different teams and using them to often devastating effect," Brown said in an email.
I have previously written about Alabama's use of Ohio State's wrinkle to the Counter Trey in which it's run from the shotgun with a fake jet sweep going the opposite direction, and I wanted to explore the specific origins of the plays Kiffin borrowed and used to great effect in the Cotton Bowl.
Slot Streak
As many now know (and as I've also written about at length), the Spartans' defense largely cycles between their base defense, a 4-3 alignment with "Quarters" coverage behind it, and aggressive zone blitzes. To broadly oversimplify, MSU's Quarters is a hybrid man-to-man/zone coverage where the cornerbacks are locked up in what looks like (and often ends up being) man coverage while the linebackers are free to stop the run. The key to the defense is the play of the safeties, who stand at around eight yards and "flat-foot read" the tight-end or inside/slot receivers, which determines whether they are responsible for flying up to stuff the run, help the cornerbacks by becoming "robber" defenders who read the QBs eyes and can double teaming the outside receivers, or if the safeties will instead lock up one-on-one with the tight-end or slot, all depending on what those receivers do.
Michigan State's record over the last few seasons speaks for itself, and when that defense is rolling it looks like it's everywhere because it naturally adapts to what the offense is doing with nine defenders up to stuff the run, help on passes to the offense's best outside receivers, and cover the four verticals pass play. As former Michigan State defensive coordinator (and current Pittsburgh head coach) Pat Narduzzi said a few years back at a clinic: "I believe one defense can stop everything; I believe we could play an entire football game in our base defense. I believe that if everyone lines up exactly right, reads their keys, and does all the fundamentals involved with the defense, it is enough to win."
But the weak point of Quarters (and other coverages in the same family) is the stress it puts on the safeties to play the run, read offensive players, and still be able to react and then hold up in man-to-man coverage, especially if the linebackers don't re-route a speedy slot receiver. Indeed, Baylor sees a lot of Quarters coverage variations in the Big 12, and one of their favorite answers is to go play action and have the outside receivers run 5-10 yards to the sideline and just stop while the inside slot runs a "Win" route vertical — get open deep.
In the Cotton Bowl against Michigan State last season, Baylor scored on a 49 yard touchdown pass from Bryce Petty to KD Cannon on a play in which Baylor's outside receivers simply took MSU's cornerbacks out of the play, while Petty made a ball fake and Cannon vaporized MSU's safety on a vertical route before running under a pretty deep ball from Petty. (And look carefully: Baylor only had ten players on the field on this play.)
And after a slow start for his offense in the Cotton Bowl, Kiffin decided to get aggressive . . . after some encouragement from his boss. "It's the first quarter and we're not doing well," Kiffin said this week. "Nick says on the headset, 'You need to go after the safeties.'"
To do so, Kiffin used the same concept Baylor had run to engineer a 50-yard bomb to freshman phenom Calvin Ridley to set up Alabama's first touchdown: Alabama's outside receivers ran outside routes on the sideline to hold the cornerbacks; Jacob Coker made a play-action fake to Derrick Henry to hold the linebackers; and Ridley ran a deep double move — the same stem to the post and then fade back out that Cannon had used the prior year — against a Michigan State's safety who was trying to both read the play-fake and match the speedy Ridley one-on-one.
"In that last game [against Michigan State] we were fortunately able to get 'Quarters' type looks versus Calvin [Ridley] in the slot a couple of times," Kiffin said this week. "And we hit a couple of big plays." What he didn't mention was that the blueprint for attacking those safeties was right out of Art Briles's Baylor playbook.
Stacked Saints
While the first long bomb to Ridley kicked things off for Alabama, the last one, a 50-yard third quarter strike for a touchdown, was the coup de grâce. And this one, too was inspired by one of Michigan State's former opponents, though what Alabama did was a mixture of two different Oregon staples.
First, one of Oregon's favorite plays since Chip Kelly was a play that (I believe) they referred to as Saints but which most refer to as "Deep Cross" or, in Air Raid parlance, "Y-Cross." The Oregon version of the play is always run from the shotgun as it combines the old Y-Cross concept with a fake zone run and a backside bubble screen — staple concepts in Oregon's offense which enhance the deception and can help free up the receivers. Meanwhile, the slot or tight-end runs the deep crossing route at a depth of 12-18 yards while the receiver outside of him runs a deep post or a curl. The play can hit in a lot of different places depending on the coverage, but the deep cross and the backside post puts the safeties under stress for a downfield shot. Below is an example from Philadelphia under Chip Kelly, who first brought the play to Oregon.
You can watch Marcus Mariota diagram this very play for Jon Gruden (who calls it, in own parlance, "Bubble Y-Over"), though note that while Mariota draws it up with the backside receiver running a curl Oregon often either tags that receiver to run a post or, alternatively, sometimes he actually reads the coverage: He runs the post if he can get open deep and, if not, he stops and turns it into a deep curl. The idea is the offense is faking an inside run play to draw up the linebackers and safeties and can either hit the vertical receiver, the deep crossing receiver behind the linebackers, or the deep post if the safeties cheat up or they leave him one-on-one. It's a play Oregon runs several times in every game.
This is the concept Kiffin and Alabama used to spring Ridley for the long third quarter touchdown, but there was a wrinkle to it, which also happened to be Oregon inspired. When Michigan State and Oregon matched up in 2014, the Ducks broke the game open in the second half with several long Marcus Mariota throws, many of which featured bunched receivers criss-crossing at the snap. In Michigan State's Quarters defense, they define the coverage responsibilities for the secondary by them from the sideline: the outside WR is #1, the next guy is #2, etc.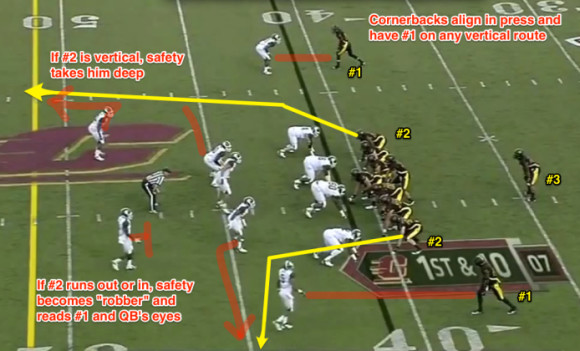 By using the bunched sets with the "switch" releases, Oregon was able to spring receivers for easy gains when Michigan State's defenders got confused on who they were covering, and even when there wasn't a bust it can cause hesitation which is enough for a receiver to get leverage to get open. In the below play, Oregon runs the four verticals concept while #2 and #3 to the three receiver side switch their releases and a runningback goes in fast or "bullet" motion to the field, all tactics designed to mess with the Spartans' coverage responsibilities.
With that background, you can see how Kiffin took staple Oregon concepts and combined them to get a crucial touchdown in the Cotton Bowl. From a set with bunched receivers to each side (a very common Oregon formation), he called Oregon's version of deep cross with the fake screen away from the back and the deep cross and post to the other side, with Ridley — originally lined up as the inside receiver — running the post while the outside receiver runs the deep cross. And, even though Michigan State looked to be in a form of pure man coverage rather than Quarters and didn't bust their assignments at the snap, the concepts Kiffin borrowed — play-action Y-Cross combined with the bunched sets with switch releases — nevertheless caused hesitation in the Spartans' secondary and again got Ridley one-on-one with a safety.
Although each of the plays I've highlighted were borrowed from so-called spread offenses like Ohio State, Baylor and Oregon, Kiffin's borrowing them very much fits in with his and Saban's "pro-style" background, where the emphasis is on situations and gameplanning — and drawing ideas from anywhere — as opposed to running only a core set of plays that fit together and relying on your team's execution and the coach's ability to move down the sequence as the defense tries to react.
"You're always trying to get matchups, and sometimes they work and sometimes they don't, because they coach too and they have good players as well," Kiffin said earlier this week. "But you're always trying to get certain coverages for certain plays, and that's what we do all week, to figure out, 'Do they play this versus this in these situations so we can run these plays?'"
The risk of this approach is you run too many disparate plays that don't fit together and your players can't master, but Saban sets the tone for his team and he has always believed that his players will master what he throws at them — so long as they trust Saban's "Process." And maybe that's the secret to the success of Kiffin's cribbing from other teams: Anything that survives The Process is bound to work.