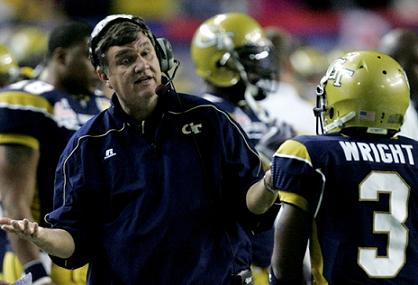 The best of times, the worst of times. Georgia Tech's win over Clemson was a fun game to watch, but ultimately taught us very little. GT scored on a long touchdown run (beautiful), and then a punt return for a touchdown off a quick kick and then one of the great trick plays in the form of a fake field goal where GT snuck a guy onto the field. And, after the initial burst, GT's offense completely stagnated, and, over that stretch, Clemson looked like the better team.
But I wasn't that impressed with them. Tigers quarterback Kyle Parker had a bizarre statline, where he completed touchdown passes of 77 yards and 63 yards, and added another 37 yard completion, but other than that he was 12 of 28 for 84 yards. I mean, I know it's not totally fair to imagine someone's statline without their best plays, but the fact that Clemson could not move the ball well other than two or three enormous plays doesn't necessary speak well to an offense. (And this goes for GT's 400 yards of offense considering 82 of them came in the first two plays.)
I think the takeaways are that: both teams are probably better than last year, but have issues; Georgia Tech will not win many games if they have to throw it; Clemson has a very impressive defensive line (they used a nose tackle on every play and managed to stop the dive-phase of the option without committing many extra people, which helped them run down the rest of the option until GT went to some counter plays); Dabo Swinney passed a test by bringing his team back; and Paul Johnson just earned a +1 for wins attributable to coaching (at least in a sense) since the quick kick return and the fake field goal were the result of good planning and taking advantage of plays, and both played into the margin of victory. The question on that last one is whether Johnson has any more of those in his system.
– Option to win. Speaking of Johnson and the option, Andy Staples of Sports Illustrated has a nice article on the subject.
– Best preview you'll read this week. Blutarsky previews South Carolina vs. Georgia, blahblahblahblah.
– 1969, football's season of discontent. From Slate.
– What is Michael Crabtree doing? From the Fifth Down. I am normally pretty sympathetic to players who fight for their value — fans and owners are quick to turn them into greedy jerks who "won't play" to turn all the leverage and public opinion against them when this is, realistically, their one shot to get paid while the money they don't take will just wind up funding jumbo trons and luxury boxes and whatnot. But I don't really have a handle on the Crabtree situation: do we really know what he wants? Are the 49ers lowballing him? (That wouldn't surprise me.) Or is he being irrational? (That wouldn't totally surprise me either.)
– Roethlisberger and Santonio Holmes lead the Steelers to victory. I didn't get to watch all of this game, but Roethlisberger is turning into sort of the Lebron James of football to me. Now, he's not as good as Lebron, but both are excellent, excellent players, who play the game with almost zero grace. I love Lebron, but for pure fluidity and elegance and aesthetic measures, Kobe or Jordan just obliterate him. Yet he's amazing, and aesthetics is not a metric that affects the bottom line. Same with Roethlisberger: the guy lumbers around, points downfield, does those herky-jerky pump fakes, but hey, he's turned into a hell of a quarterback.
– A video on pairing wine with cereal. Seriously.
– Professor sees parallels with nature in NFL touchdown binge. Thanks to Coach Maddox for the link to this article.
Adrian Bejan a professor of mechanical engineering at Duke University, likens the NFL's evolution to a river's effect on its basin. (Stay with us, here.) Over time, a river relentlessly wears away its banks and, as a result, water flows faster and faster toward its mouth. When obstacles fall in its way, say, a tree, or a boulder—or in the case of an NFL offense, beefy linebackers like the Baltimore Ravens' Ray Lewis or the Chicago Bears' Brian Urlacher—it will figure out how to wear those away, too.

"The game is a flow system, a river basin of bodies that are milling around trying to find the most effective and easiest way to move," says Prof. Bejan. "Over time you will end up with the right way to play the game, with the patterns that are the most efficient."

In 1996, Prof. Bejan, who began following the NFL after coming to the U.S. from Romania to attend college, came up with a theory about natural phenomena known as the Constructal Law. The theory, he says, can be used to explain the evolution of efficiency in everything from river basins to mechanical design. By extension, he says, it could also be applied to the explosion of offense in the NFL.

Former NFL team executive Charlie Casserly, who is now an analyst for CBS Sports, says the spreading out of NFL offenses is a logical development—especially as defenders become faster and bigger. "You take the defense out of that eight-man front and you open all sorts of new running angles," Mr. Casserly says.

The transformation of football from a game of brute strength and collisions to one of speed and open seams isn't limited to the NFL. Four decades into a half-century career in coaching, Warren Wolf of Brick Township High School in central New Jersey, concluded that the most efficient play he could call was to immediately put the ball into the hands of his best athlete and provide him with ample room to wreak havoc on the defense. Whether that meant running or passing, the result was the same: The chaos created space, and the space allowed his team to move the ball up the field. "Nine times out of 10, the broken play is the best play in football if you've got a guy who can move," Mr. Wolf says.

Tom Lemming, the recruiting expert and analyst for CBS College Sports, says no one on the college level has figured out how to neutralize the speed of the spread offense, either. "The offense always sets the agenda, and the defense plays catch-up," Mr. Lemming says.

Considered more broadly, Constructal Law may be the closest thing to a grand unified theory for the evolution of sports. In a sports context, the river is the relentless search for the easiest way to score or win more often. In soccer, there is the indefensible through-ball, passed between two defenders to a striker sprinting into open space. In basketball, the two-handed set shot eventually gave way to finding the tallest, fastest players who could jump the highest and dunk.

Prof. Bejan recently published a study that showed during the past 100 years, the speed of world-record sprinters in both running and swimming has been increasing at the same rate as their size. In other words, the human race is figuring out what animals have long known, that bigger means faster. Whales swim faster than tuna, for instance, and horses run more quickly than mice.

The professor doesn't fashion himself as an expert in sports. In his 20s he was a member of the development program for Romania's national basketball team. When he arrived in the U.S. to study at M.I.T. in 1969, he knew almost nothing about American football. In the 1990s, he says, the relationship between the evolution of efficiency in nature and the human drive to create the easiest and most efficient systems for living became clear to him. The world and its inhabitants, he argues, are simply genetically predisposed toward speed.

This drive to efficiency may also apply to the people who make the rules. If it's human nature to promote speed whenever the action appears to be slowing down, it's no surprise the NFL decided, in 2004, to tell officials to crack down on the amount of contact defensive backs can have with wide receivers. In scientific terms, the NFL wanted to make the system flow more efficiently. (The fact that touchdowns make for good television might have played a role here, too.)

"The evolution of the drawing never ends," Prof. Bejan says. "And the evolution of the river basin only goes in one direction."