Joe Paterno, on the recruiting trail: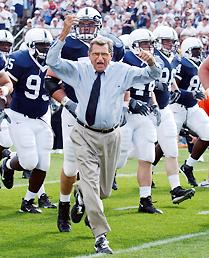 In 2007, Penn State coach Joe Paterno watched on TV as Drew Astorino hit the game-winner for Edinboro (Pa.) General McLane High in the Class AAA state hoop final. A few months before, Astorino scored the winning touchdown in the AAA football final. Astorino, who doesn't run a 4.3, had one offer (Kent State) before Paterno called. Astorino "made plays in the clutch, so we took him," Paterno told the Philadelphia Daily News. The 5-foot-10, 193-pound redshirt sophomore is starting at free safety. That's recruiting, old-school.
The fact that this was the grizzled Paterno makes this story even better. (Hat tip: Blutarsky.)
– Residual Prolixity reviews Clay Travis's Dixieland Delight: A Football Season on the Road in the Southeastern Conference. The review ends:
The enjoyable romp both hurts and helps Travis here — helping, because an enjoyable romp is never really out of style, and hurts because there's really nothing to learn from reading Dixieland. I suppose the best thing I can say is I enjoyed reading Dixieland Delight, never thought about not finishing it, and don't regret the money I spent acquiring it.
– The Pro-Football Reference Blog Revisits Aaron Rodgers and the Curse of Jeff Tedford. Bit here:
As for the whole Tedford hysteria, it was overblown, even at the time. (And since I'm pointing out old articles discussing a Tedford curse and other such voodoo, I should also point out that Jeffrey Chadiha wrote a more reasoned piece at the time.) I mean, Tedford got credit/blame for BOTH Carr and Harrington in 2002? What, was he dating one while seeing the other on the side? It seems to me like there was a lot of "Norv Turner produces great running backs" hype going on here, where there are some truths, some half-truths, and some circumstantial stuff. So I cross-referenced Tedford's actual coaching career with the "Tedford Five".
I for one like Rodgers, both in terms of potential and what he showed last season. Even with Favre's personal quest to destroy his own legacy, Rodgers has big shoes to step into but in many ways he had a better season than Favre had had recently (i.e. Rodgers's yards per attempt and "Air yards" — yards per attempt stripped of the receivers' run after the catch — compared very favorably with Favre and the other top quarterbacks in the league). If nothing else, Rodgers's success would likely take the monkey off Tedford's back, though I'm sure people will still find ways to say that Rodgers somehow cast off the awful taint of being coached by Tedford while he sat behind Favre.
– It ain't art. Southern Miss looks to have a strong season under Larry Fedora, with sixteen starters returning, but I'm not sure what to think about their new poster, which we all know is the real hallmark of success. (Ht WizOfOdds.)
– Sometimes, Chad Ochocinco is very likeable. After kicking the PAT, Chad quipped, in reference to those Dos Equis commercials(ht Fifth Down Blog):
"Esteban Ochocinco is back, the most interesting footballer in the world," Ochocinco said. "Everyone has to remember, I've always said that soccer is my No. 1 sport. I think Ronaldinho would be proud of me right now."

Ochocinco practices kicking but had never done it in a preseason or regular-season game in his eight years with the Bengals, the first seven as Chad Johnson. But when Shayne Graham's groin felt sore in pregame warmups, coach Marvin Lewis decided to rest the team's franchise player and see what Ochocinco could do.
He later added, via Twitter:
"Goodnight world, Esteban rests his head on a chin chilla pillow case, did I spell that right? I'm lying anyway, I got that Target special!"
– "Leagues [i.e. SEC] see Bloggers in the Bleachers as a threat," so says the front page of the New York Times. I hope things are loosened, but there is a very practical reality that some of the more draconian of these policies actually discourages people like me, from my little crook of the internet, from wanting to see games in person. I am set to see Tebow play a few times this year, the Giants, etc. Seems bizarre that it's at the games I actually attend that I would be most restricted from commenting.
– "Fans talking like lawyers over Burress, Stallworth." This AP article highlights how it is very natural to compare the punishments of Michael Vick, Plaxico Burress, and Dante Stallworth:
Of the first 10 reader comments about the story posted on NFL.com, half mentioned Stallworth or Vick. "The legal system is a joke" began the title of one thread on the message board on the Giants' Web site. And so it went throughout cyberspace, with debate about whether Burress' sentence was too severe inevitably comparing his punishment to that of the two other players.

Stallworth, the Cleveland Browns receiver, served 30 days in jail for running over and killing a man while driving drunk. Vick, the former Atlanta Falcons star quarterback who recently signed with the Philadelphia Eagles, served 18 months in prison for torturing animals and running a dogfighting ring for years. With time off for good behavior, Burress will likely serve 20 months.
I think this is potentially quite important; sentencing does have a lot of disparities and, well, inanities, and for once some of these crimes. Deaths caused by drunk driving are often treated very leniently, while simple possession of a gun is treated about as harshly as anything else these days. Besides cases like Plaxico's, a felon who possesses a gun or someone who is charged with theft or a drug purchase while in possession of a gun is bound to receive very, very harsh sentences. Not to say these aren't bad things, but it is difficult to justify when drunk driving fatalities are treated so leniently. Again, this is often a function of the different courts. In federal court, punishment is almost universally very, very harsh. By contrast, states have a wide disparity of rules, ranging from a two year mandatory minimum for Plaxico's gun possession and a very light approach to drunk driving for Dante Stallworth. The hope is that maybe people will pay attention to the larger issues, besides a general interest in how much football players should be punished. As sentencing law expert Doug Berman observes:
High-profile cases often provide the public with a skewed sense of the realities of sentencing justice. The ultimate outcomes in these three cases, however, may provide a rough reflection of modern sentencing realities. As I often complain on this blog, drunk driving sentences tend to be quite lenient in light of the profound harms that drunk driving causes, and yet many "regulatory" crimes can result in more prison time than may seem essential.