Actual Xs and Os. California Golden Blogs does an interview with Art of Trojan Football Analysis. Well worth the read.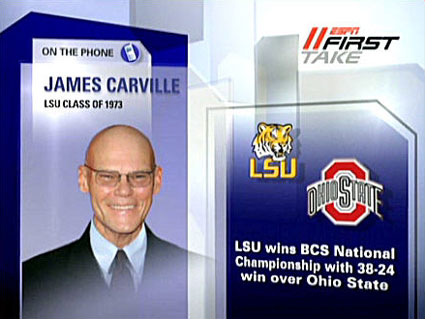 – James Carville was born that way: Via Blutarsky:
James Carville (a huge LSU fan), in response to Tony Barnhart's question "how did you become a college football fan?", had this to say last night:

How did I become a college football fan?  How did I become a heterosexual?
– Food for thought. Although cleared to play, Bob Stoops is keeping Sam Bradford out against Miami for safety reasons. Meanwhile, Urban Meyer says that Tebow is "ahead of schedule."
– Synecdoche, Kraghtorpe. It's been a hard run at Louisville for Steve Kragthorpe, particularly as he has tried to replicate the success of Bobby Petrino before him. Tonight, he faces a must-win against Dave Wennstadt's Pitt Panthers, and if he doesn't win the calls for his head will be louder than ever. Yet while BCS school coaches get paid to deal with that kind of scrutiny, you have to feel a bit bad for his son Brad, a junior quarterback at perennial Louisville, KY power, Trinity High School. Aside from the scrutiny of being Steve Kragthorpe's son, Brad has battled turf toe all season, and even got yanked this season when Trinity was crushed by Ohio power Cincinnati St. Xavier, 43-13. His head coach, the excellent Bob Beatty, said of pulling Brad Kragthorpe, "It's called turning the football over. You can't do it." He had fumbled and thrown an interception.
And it seems that living up to the expectations of a Petrino is becoming part of the Kragthorpe experience. Adding to the pressure on Brad Kragthorpe is that he not only must follow in the shoes of Brian Brohm, who won a couple of state titles as quarterback for Trinity, but also those of Nick Petrino — Bobby Petrino's son — who successfully quarterbacked the team to at least one state title, though I don't have all the numbers in front of me. And tonight, while his dad fights for his career against Pitt, the younger Kragthorpe will start in one of the most attended high school games in the country, against Louisville St. Xavier, in a game expected to draw over 35,000 attendees (for a high school game!). Louisville St. Xavier is favored to win.
– Speaking of Kragthorpe, one of his former players, Mario Urrutia, who flourished under Petrino but flopped later is back in the news, having been activated in Tampa Bay.
– This is ridiculous but overall kinda great. From BHGP.
– Not football, but interesting. Watch Joe Mauer steal signals:
Here's one view of whether this is kosher.
Putting aside Mauer's denial, the interesting thing about this is whether it's actually wrong to steal signs. There's no rule against it, and so the answer is: it depends on the players' perceptions of the situation. If you run afoul of the norm (i.e., a batter looking behind him) then you are likely to face informal sanctions in the form of a baseball to the body. Mauer's sign-stealing, by contrast, seems acceptable: (1) it was a crucial game; and (2) the Tigers didn't protect their signs despite knowing a man was on second. But it isn't so acceptable that he can admit it publicly. That is: Mauer's sign stealing was at once lawful, permitted in the social context, and publicly wrongful.

(H/T: Reader CDP. For more on the history of sign-stealing in baseball, check out The Echoing Green: The Untold Story of Bobby Thomson, Ralph Branca and the Shot Heard Round the World)
– Coach on the (practice) field. From the Miami-Herald (h/t EDSBS):
Coach Randy Shannon said quarterback Spencer Whipple — who transferred this week from Massachusetts and is the son of UM offensive coordinator Mark Whipple — has done a good job of running the scout team.
This is actually a really good move all around. I don't know anything about whether Spencer Whipple could play for UM, but it sounds like he's already doing well for the scout team, and thus can free up the (thin) QB backups at the U to be ready to step in for Harris if he got hurt.
– The Boilermakers are restless. The two main Purdue blogs, Boiled Sports and Hammer and Rails, are both kvetching at Purdue's 1-3 record so far. And that is obviously not something to be proud of, but we're already hearing that the quarterback has to be benched and the new coach, Danny Hope, isn't up to the job. In other words, they are disappointed.
But uh, when was Purdue supposed to be good? They lost almost everyone on an offense that the prior year had already lost most of the playmakers, and the recruiting in the late Tiller era really dropped off. Indeed, this was a team that many said would win but one game this year, and was picked by everyone to finish at the bottom of the Big 10. The new quarterback, fifth-year senior Joey Elliott, is not inspiring but his cast of receivers includes one possession receiver (Keith Smith) and then a bunch of guys with athleticism and almost no ability to run routes precisely or read defenses. In any event, take away the enormous egg Purdue laid against Northern Illinois, and the performance has been positive, at least in terms of building for the future — close losses to Oregon (a game they should have won) and Notre Dame (could have won) and a solid win against a better-than-expected Toledo team. And with the Northern Illinois game it merely repeated a pattern common with other Big 10 schools: fiddle around with an inferior opponent for too long and then try to come back and win. Teams like Iowa were able to do it, while teams like Purdue and Michigan State (against Central Michigan) were unable to. They are lower to bottom half of the Big 10.
It's too early to say that the coaching staff doesn't get it. Again, we're not talking about a very good team, and the first year always takes growing pains (ask Rich Rodriguez). Even Pete Carroll and Nick Saban had mediocre first years at their schools (though Purdue is unlikely to come the 6-6 marks those guys achieved at Southern Cal and Alabama, respectively). People need to relax, let the season play out, and ask these questions at the end of the season: Did this team improve, and are they poised to improve for the future? Did they lay down and die against the Big 10's elite teams like Ohio State? Or did they go down fighting? We're not talking about a team that was left ready to compete for a National Championship or was winning BCS games (hello Steve Kragthorpe). Next year, with the highly touted but tumultuous Robert Marve as the likely starting quarterback, will be the real test for Hope. Almost everyone returns. Will Purdue? It's too early to tell.
– The Rivalry, Esq looks at Michigan State versus Michigan.
– The Return of the Mack. When I wrote all that stuff about Tressel, it was against the background principle that he has been one of the most effective and successful coaches of the last two decades, going back to his time at Youngstown. And now, it appears, that post the USC loss he is subtly adapting and evolving, though within the framework of his core ideas. That's all anyone can ask for. Eleven Warriors has the full synopsis, which includes this gem:
Whether it's influenced by Hazell or not, another key change to the offensive philosophy is the recent use of the shotgun to disguise running plays. The look has forced LBs to give more respect to [Terrelle] Pryor as a runner and pulling the tight end on occasion hides the fact this team is void of a legit lead blocking fullback. The schematic change has also featured countless zone/read plays going for big gainers even though its understood Pryor really hasn't had a choice to keep the ball or not thus far. This singular play, along with improved blocking up front, has afforded Boom and Zoom the luxury of hitting the line of scrimmage without having to make the first guy miss right at the point of attack. Additionally, it provides for new wrinkles in weeks to come such as TP actually having a choice to handoff or takeoff, or use play action to freeze LB's and safeties in coverage. Now, we just have to hope it wasn't a one hit wonder unleashed to exploit particular holes in the Illini defense as TE coach John Peterson implied yesterday.