Wild thought. Here's a question for discussion. The Dolphins this season have taken to using a very interesting personnel package for their wildcat looks: two tight-ends and four runningbacks (Ronnie Brown at the "wildcat QB" spot, Ricky Williams as a split receiver/motion back, and then a fullback next to Brown and the other flanker has been a runningback as well). My friend Jerry Gordon speculated that this might be particularly taxing on NFL teams because of the strict 53 man roster limits. Indeed, the Dolphins had a lot of success against the Jets, and Rex Ryan uses a number of six, seven, and occasionally more defensive backs on the field at the same time to bring pressure with. Plus, add to that the fact that the typical NFL "cover" cornerback is not excited about being blocked in the run game, and the extra runningback out there can be a key linchpin for making the jet sweep go, and the personnel in general for opening up creases. Anyone have any thoughts on this?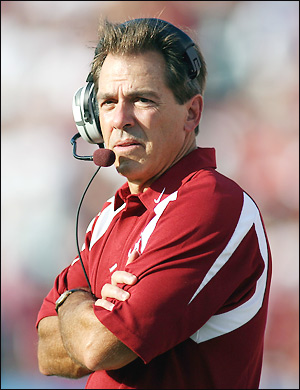 – Brophy, delivering. My man Broph has some great stuff up from the past couple of weeks, especially his in depth look at Nick Saban's defense. I've discussed an overview of some of what Saban does, but Brophy provides a nice summary of a DVD series Saban did, with primary focus on single safety or "one-high" defenses — Saban's favorite.  Brophy has broken the articles into three parts:
It's best to read all of it, but a couple of good Saban quotes to whet the appetites:
If you're not matching the pattern and cheating the receiver, you're never going to make it. You're going to be watching completions all night long. You're never going to make it [to the ball].

The simplest and best defense in football is man-free coverage. It covers everything, it stuffs the run, and it defends the middle of the field. It's the #1 coverage in pro ball . . . basically because you can't get away with playing Cover 3.
And then this explanation of the "RAT" call from Cover 1 from Brophy:
The main nuance of this coverage has to do with a challenging/conflicting assignments for the backers. Because the main thrust of the defense is to stop the run from the inside out and [to] keep[] the defenders playing fast, the premise is to keep the linebackers focused on the backs and TE. Saban uses an alert code (RAT) to prevent a potentially 'coverage breaking' route.

"RAT" is used to alert inside backers [that the] strong safety [is] passing off his responsibility ([i.e., the] tight end) to the inside linebackers. When the second receiver (tight end) stems inside ([i.e., like on a shallow cross]), the strong safety, [if he] ran with him, []would be immediately vacating the perimeter ([i.e.] where the run game would likely be attacking) as well as [getting in the way] of the (run game) pursuing linebackers. To [avoid] this hazard, when the tight end stems inside [as on a shallow cross], the strong safety will declares/yells "RAT!". "Rat" means a guy is coming into the funnel (is being funneled) and the remaining defender in the hole should cut/reroute and jump this receiver as he approaches.

This call accomplishes two things. First, it alerts the next backer over (Sam) that the strong safety will take his assigned man (first back out), and he should now adjust to the second back out strong. Secondly, it tells the Mike, who is the "rat in the hole" that he is going to have company soon (crossing tight end) and can jump this route as it comes.
As I see this, it is Saban's way of getting a "floater" or "robber" player while keeping exactly who he wants on the various backs, tight-ends, and inside receivers — i.e. controlling the matchups. As a bonus, again courtesy of Brophy, is a video of 'Bama in Cover 1 looks. And, of course for more, you must read the "holy grail" of defensive playbooks, Saban's 2001 LSU book.
– Pellini, (un)-interrupted. Tough week for Bo coming off a big and disappointing loss to Texas Tech. But Brophy came through again with audio of a clinic talk Pellini gave while still at LSU on his defense. It's well worth the listen.
– The testing of Mike Leach. Speaking of Tech, I have previously noted that Mike Leach is particularly adept at producing one prolific passer after another, and credited much of that to his system of drills and pass-happy practices whereby all his QBs get lots of reps. That theory will be challenged this week, as the Captain will likely be forced to start third-string redshirt freshman quarterback Seth Doege, due to injuries to his first two quarterbacks, Taylor Potts and Steven ("Sticks") Sheffield.
– Interesting publishing deal.
Free e-books as moneymakers?
– That's just wrong. (H/t The Wiz)
– Jets QB Mark Sanchez had such a bad day… How bad was it? PFR Blog explains.
– Does anyone think this will actually help? I don't know much about what's going on with Jim Zorn and the Redskins, but is anyone convinced that taking away his playcalling duties and giving them to Sherman Lewis (who wasn't even on the staff as of about three weeks ago!) is going to do anything? If there's a crisis of confidence, then how will this help anything?
– On salary caps and competition. Sabermetric Research Blog.