It's up over at the Grantland blog:
Oklahoma State has excelled for both of the past two years with "packaging concepts," and in this case, putting different "coverage beating" pass concepts to each side of the field. Doing this gives quarterback Brandon Weeden options on where he wants to go with the ball, depending on the pass coverage. On this play, the Cowboys lined up with three receivers to the left and Blackmon, as the split end and the running back, the versatile Joseph Randle, to the right. The pass concept to the three-receiver side was a staple of Oklahoma State's offense: the stick concept. On stick, an outside receiver runs a vertical route, an inside receiver runs to the flat while a third receiver runs a "stick" route, essentially just hooking up at five or six yards. This creates a stretch on the defense in the form of a triangle, and is good against almost all zone coverages and some man-to-man looks.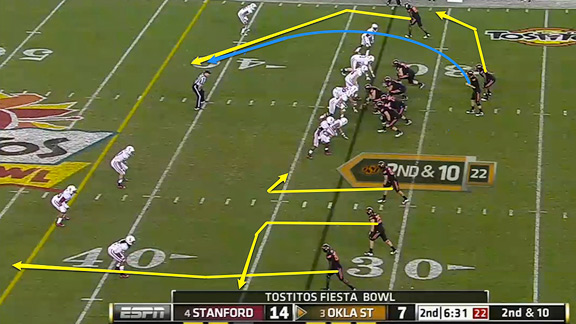 Read the whole thing.