It's now up over at Grantland: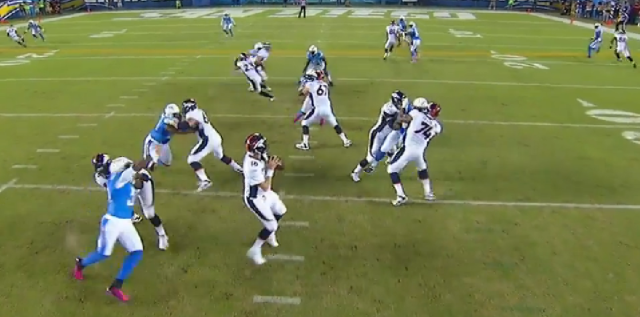 The play was a familiar one for Manning, which is revealing of the Broncos' approach. At times this season it's been clear that Denver head coach John Fox and offensive coordinator Mike McCoy have been more focused on fitting Manning into their offense, with mixed results. Some of this has been because of Manning's need tolearn Denver's terminology, while the rest of it has just been finding the right blend for the entire team. What we saw in the second half is something we've seen all year, namely the Broncos dipping into Manning's old Colts playbook for plays he's most comfortable with, and then succeeding with them.

The latest example was this play, known as an anchor pass concept: An inside receiver runs a curl or other inside-breaking route right in front of the safety, while an outside receiver runs a post route right behind him. With the Colts, Manning frequently hit Marvin Harrison or Reggie Wayne running free behind someone like Dallas Clark; this time, Demaryius Thomas was the beneficiary.
Read the whole thing.