Bill Barnwell invited me to write some sidebars for his Grantland pieces analyzing Bengals quarterback Andy Dalton and Dolphins quarterback Ryan Tannehill.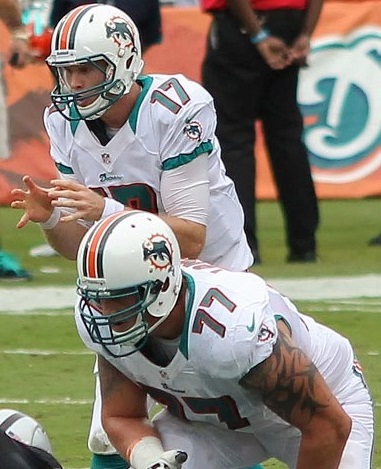 Check out the Tannehill piece:
Ryan Tannehill enters his make-or-break third season with a new offense coordinated by Bill Lazor, a promising but relatively unknown coach. Joe Philbin let his friend Mike Sherman go and brought in Lazor, who has coached with Joe Gibbs, Mike Holmgren, and, most recently, as the quarterbacks coach in Philadelphia under Chip Kelly. Miami is hoping Lazor can do for Tannehill what he did for Eagles quarterback Nick Foles, who went from an iffy rookie year in 2012 to a sparkling 27-2 touchdown-to-interception ratio and a league-high passer rating in 2013. Nonetheless, Lazor, who, befitting his Cornell degree, looks less like an offensive coordinator than he does a management consultant, is something of a blank slate and has never called plays in the NFL before.

And while several players have intimated that the new Dolphins offense will look like Philadelphia's, Lazor has maintained it will be a blend of what he has learned throughout his career, not just his lone season with Kelly. But while we don't know if Lazor brought the Eagles' playbook to Miami, we do know he is trying to replicate Kelly's fast-paced approach. "The number one thing we want to do is play with great tempo," Lazor explained recently. But the best no-huddle offenses in the NFL — the Broncos, Patriots, and Eagles — expertly vary their tempos, a skill Lazor is going to have to develop.
And the one on Dalton:
It's a shame because when he has a comfortable pocket, Dalton is able to show everyone what his coaches clearly see in him, namely that he understands defenses, route concepts, and even how to look defenders off and throw with anticipation before his receivers make their breaks. Unfortunately for Dalton, the threat of pressure can't be wished away in the NFL.

One question often asked about Dalton is whether his background with the spread offense in college helped or hurt him. It probably helped, but it's hard to say. TCU — the rare college spread offense team that boasted top-five defenses while Dalton was there — ran a standard spread: multiple receiver formations, a mix of inside zone and read-option runs, coupled with quick passes and a bevy of screens, which sounds a lot like what he did in Cincinnati under Gruden, minus the emphasis on read-options. Dalton's other top passing concepts at TCU are also found in NFL playbooks, and the reality is that he's going on Year 4 as a starting quarterback — he's had plenty of opportunities to adapt to the pro game.