It's now up at Grantland: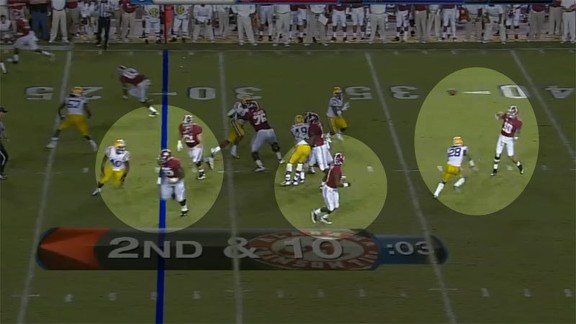 On second-and-10 with just under a minute remaining, LSU defensive coordinator John Chavis called what looked like an all-out blitz. McCarron had just completed several passes to the trusty Kevin Norwood, and Alabama was in range for a long, game-tying field goal. In calling an all-out blitz, Chavis seemed to be falling into the trap legendary coach Bill Walsh noted when an offense gets into the scoring zone:

The defensive coach is trembling because the head Coach is walking toward him. The head coach says, 'Blitz, stop them now. Blitz, they are killing us." … Most people get desperate, some people panic. Teams go to a man to man coverage, teams will blitz…. You show your team what you think is best in this situation. We will use the same ones all year, but we are going to practice them… Now when your team comes out of the huddle on the 18 yard line, the guys are saying, "Look out for the blitz, here's our chance to score."

First-year Alabama offensive coordinator Doug Nussmeier, who, like prior OC Jim McElwain, is a disciple of the one-back offense, on this play made what was apparently the perfect Walshian call — a screen pass in the scoring zone against a man-to-man blitz. Yet, upon further review, the play was slightly more complicated than that.
Read the whole thing.