It's up over at the Grantland Blog:
That Oregon coach Chip Kelly has a plethora of spread and read concepts in his offense is by now well-known. And Saturday evening against Stanford was no different. Kelly has often remarked that it sometimes takes him a couple of series to tease out how the opponent wants to defend him. At that point, his up-tempo offense usually explodes.

Against Stanford, Kelly repeatedly went to his basic zone-read run game but with three receivers to one side and a tight end to that same side — an unbalanced set. Because Kelly forces the defense to cover his three receivers with three defenders, or else his quarterback is instructed to throw a bubble screen to one receiver while the other two block, he forces the defense to make decisions in how it will defend the inside runs.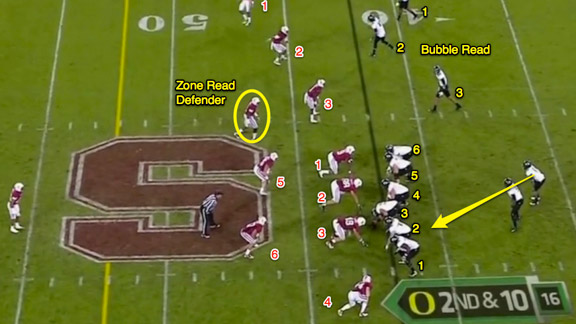 Read the whole thing. Highlight of the play after the jump.