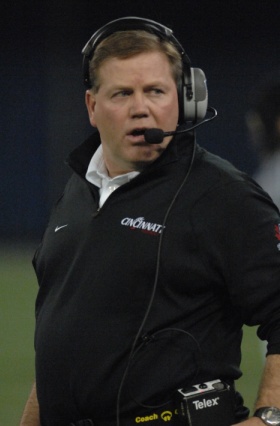 People somewhat rightly criticize Notre Dame and its fans for what they perceive as an outsized view of the team's importance: In the cable TV/internet age, the NBC contract isn't anything that special; the so-called "echoes" have slumbered in an ancient sleep for decades; and the Notre Dame head coaching job — now taken on by Cincinnati's Brian Kelly — is so fraught with pratfalls and these oversized expectations that it's foolish to even take the job.
But, if the job comes for you, there's really no way you can turn it down unless you have something pretty special lined up, i.e. Urban Meyer at Florida. Indeed, even if success there, under present circumstances, is elusive, the reward remains among the highest that football can offer: immortality. Even Notre Dame's failed coaches remain part of the public psyche; I don't remember many of the names who coached Oklahoma during the lean years, but nearly every football fan can recall Gerry Faust. But, rightly or wrongly, winning a national title at Notre Dame ensures your legend.
So I think Kelly was right to accept the job. The more interesting question is whether Kelly was the right ma
n for it. Given the choices this year, I'd say yes. I liked the "fit" of a Gary Patterson more than Brian Kelly in South Bend, but I think he'll succeed. A few unconnected thoughts:
In terms of recruiting, Kelly has done an excellent job getting talent into Cincy, and will continue to recruit many of the same areas.
This might be heresy, but schematically I don't find Kelly that interesting. Now he's a spread guy (which plays to my preferences), and he's been doing it a long time (so he has a pedigree), but I think much of the talk about Kelly as an "offensive genius" is misplaced. He runs a very simple, and even at times simplistic, spread offense. That's the bad news.
The good news is that really doesn't matter. The Irish just got done with a guy who was pretty convinced of his schematic brilliance, and likely the sooner ND can get beyond just winning the scheme battle and win some actual ones on the field, the better. And with this is the fact that Kelly is an excellent teacher, which is what really matters.
And don't get me wrong here, his scheme isn't bad. His staff gameplans very well and they put their kids in position to succeed, which is really all that matters. You'll see some fun stuff from quads — or with four receivers to the same side — but otherwise everything is pretty basic. Yet I liken it to when Holtz arrived at Notre Dame. No one perceived him as an offensive guru, but for what they did at the time, relative to everyone else in college football (and with some very good players), it was sophisticated enough. I think it will be similar for Kelly: If he gets good players in he'll do a great job of teaching them, and as a result the offense will succeed.
Which brings us to probably the scariest similarity with Weis: Kelly needs to find a good defensive coordinator, and I'm not sure who that will be. This need to find an offensive guy to whom that entire side of the ball can be dumped on sort of the Sword of Damocles that hangs over all the offensive obsessed gurus. Charlie Weis never figured it out; Steve Spurrier never won a national title until he got Bob Stoops in as defensive coordinator; Urban Meyer's first championship at Florida, the championship game last year, and much of his success this year was driven by the great defenses of Charlie Strong (who is now at Louisville); and in the NFL the New Orleans Saints have gone from bubble playoff team to undefeated with the introduction of some new faces on defense and a new defensive coordinator, Gregg Williams.

So more than any single recruit, I'd want to know who Kelly is going to hire as his DC. Had Weis's defense been better this year it's likely that he'd still be in South Bend. (And once you go to the revolving door, it becomes hard to get settled, as it takes awhile to get the program up to speed. It's hard to transform a defense with a few weeks of spring and fall practice.)

All this, however, obscures the bottom line: Brian Kelly has won everywhere he has been. He turned Grand Valley State into a title winning team; he resurrected Central Michigan, where Butch Jones has continued much of that success; and in Cincinnati he has led the team to three of the best seasons in school history — maybe the best — in back-to-back-to-back years. I agree with the commentary that Notre Dame is best off hiring a guy who has succeeded at the college level. With Weis I think the goal was to sort of emulate Pete Carroll's success at USC, but it didn't work. And the Notre Dame job is fraught with all the issues that plague all college head coaches, but, often enough, on steroids. A little time in the meat grinder can only help.
Hopefully no one takes my criticisms too harshly. As I said, the bottom line is that Kelly is a winner, and there's no reason to think he won't be able to do that at Notre Dame. I'll definitely watch more Irish games next fall.